How much do mobile UV units cost?
Posted by Luis Espino on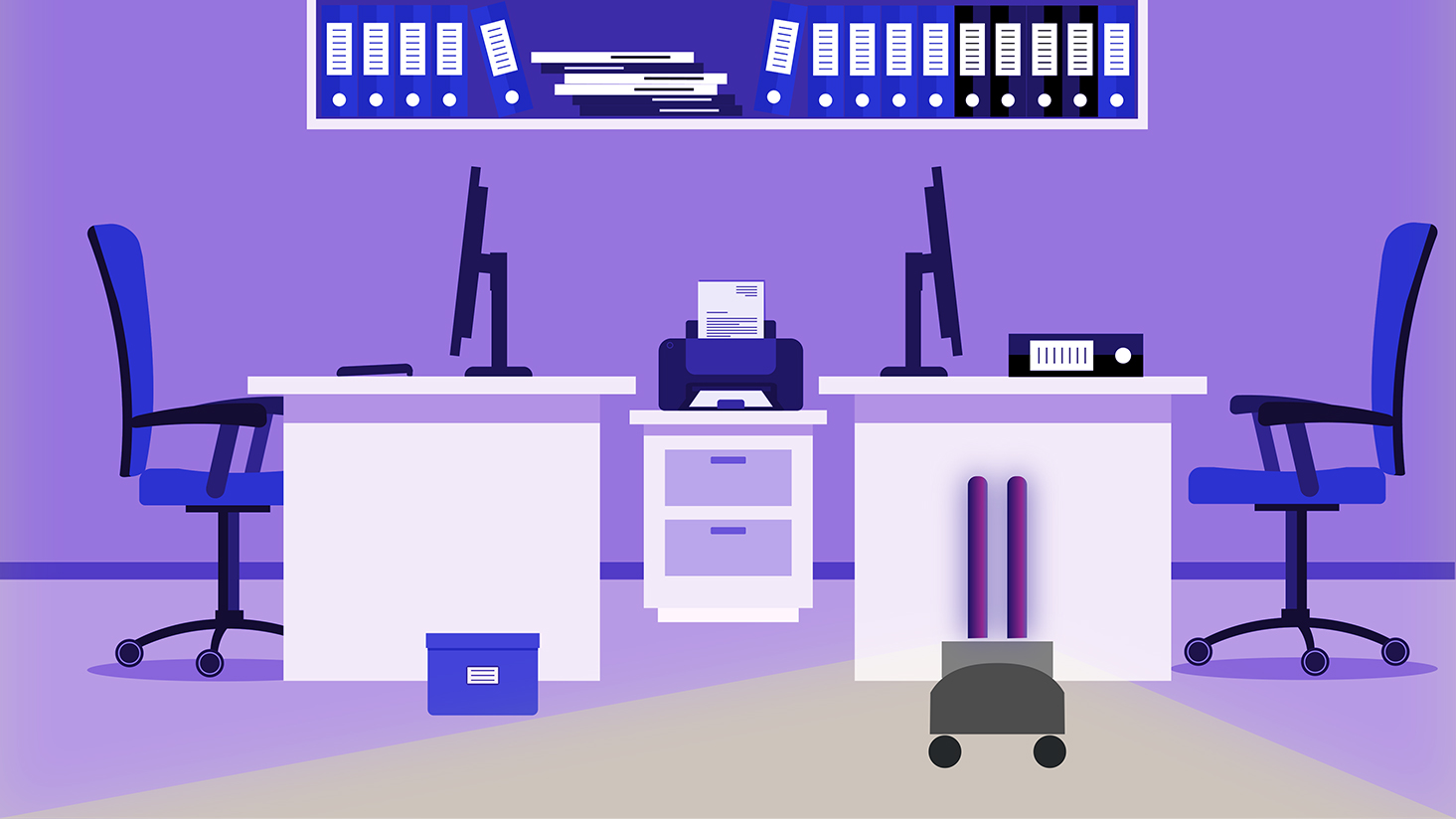 If you've taken a look at UV products, you've probably seen images or videos of a UV robot moving room to room while disinfecting surfaces.
Mobile UV units are one of the most flexible UV product options, and industries outside of healthcare are starting to catch on.
But with prices ranging from $3,000 to $20,000 or more, how do you know which product is right for you?
Let's dive into how mobile UV units work, then we'll explain the difference in cost.
What are mobile UV units?
Mobile UV units can be anything from a high-powered cart to a UV fixture on a tripod, as long as it's easy to move from one area to another.
Mobile UV units use UV-C rays to disinfect air and surfaces. They have several advantages over other types of UV fixtures. Mobile UV units can be used in any room, typically plug in to operate, and usually require very little training before use.
Read more: Pros and cons of mobile UV units
Most of these UV products kill or inactivate up to 99.9% of germs or higher and they don't have to run on a schedule.
But there are a few factors to consider before purchasing a mobile UV unit.
Exposure to germicidal UV, also called UV-C, can hurt our skin and eyes. Mobile UV units should only be used when no one is in the room.
Most products operate on a delay to give the operator time to leave the room before the cycle begins. They are also usually equipped with an occupancy sensor that will shut the unit off if motion is detected.
Up until now, mobile UV units were primarily used in hospitals. Now, industries from transit authorities to restaurants to hotels are adding them to their regular cleaning routine.
Watch how one hotel is using mobile units to give guests a new comfort level:
Cost for mobile UV units
How many mobile UV units do you need and how much can you expect to spend?
The answer really depends on the intensity of the product. The larger, high-powered mobile UV units will cover more square feet in a shorter amount of time. They're a great option for hospitals and healthcare settings where a room needs to be cleaned quickly.
If the rooms you want to disinfect are empty for longer periods of time, or if they're smaller, then a medium to small mobile UV unit may do the job.
For most mobile UV units, you have to run multiple cycles to ensure that UV rays disinfect all surfaces in a room.
To help you determine which model you need, we will explain how many cycles you should expect to run in a 350 square foot room. That's the average size of a hotel room, patient room, and office board room.
If your building has hundreds of rooms this size and several floors, you may want to purchase multiple units. If you have only dozens of rooms to disinfect, a single unit may be a better option.
These estimates do not take into account the number of obstacles in a room. UV rays follow a line of sight rule. For example, if a mobile UV unit is placed beside a chair, part of the chair would be disinfected but behind the chair would not. To really understand how many cycles it could take to disinfect a room and to hit the most high-touch surfaces, consider using a UVC dosimeter.
Prices of products listed below are updated as of the publish date on this article and may change based on market pricing.
PURO Lighting, powered by Violet Defense Technology, offers five different models of mobile UV units. They all have adjustable equipment to help hit high and low surfaces in a room.
The Sentry M4 is the most powerful of the five units with four UV light engines and a nearly 360 degree range. One cycle of the Sentry M4 covers about 288 square feet. You could cover a 350 square foot room in two cycles.
The Sentry M2-C and the Sentry M2-T both use two UV light engines and cover a nearly 180 degree range. The difference between the two products is the base. The Sentry M2-C has a wheeled base and the Sentry M2-T has tripod. Both products cover about 144 square feet, so you could disinfect a 350 square foot room in three cycles.
The Sentry M1-1 and M1-2 both use a fixture that only has one UV light engine, so the coverage area is smaller.
The Sentry M1-2 has two of UV fixtures for nearly 360 degree coverage, so it can disinfect an area of about 200 square feet with one cycle. You could cover a 350 square foot room in two cycles.
With 180 degree coverage, the Sentry M1-1 can disinfect an area of about 100 square feet. You would need to run around four cycles to disinfect a 350 square foot room.
Here's a chart comparing the reach of the PURO Lighting products: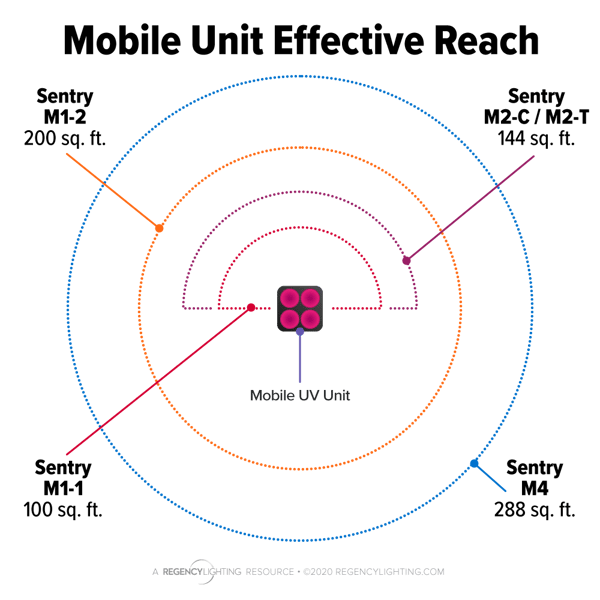 American Ultraviolet mobile UV products can all reach distances within a 10 foot radius and beyond with 360 degree coverage.
The difference is how quickly it can disinfect surfaces further away from the unit. We will compare each of the products based on the dose received 10 feet away from the unit during a 15 minute cycle.
The Artz 2.0 is the most high-powered option. The unit has 24 germicidal UV lamps that are 45" long. On a 15-minute cycle, the unit can deliver a dose of 293 mJ/cm².
Instead of 24 germicidal UV lamps, The MRS 45-12 has 12 45" lamps. On a 15-minute cycle, the unit can deliver a UV dose of 190 mJ/cm² within 10 feet.
The smallest option, MRS 33-8, has eight germicidal UV lamps that are 33" long. On a 15-minute cycle, the MRS 33-8 can deliver a UV dose of 92 mJ/cm² within 10 feet.
For reference, the dose needed to inactivate other coronaviruses similar to SARS-CoV-2 is between 10 and 20 mJ/cm² in laboratory settings.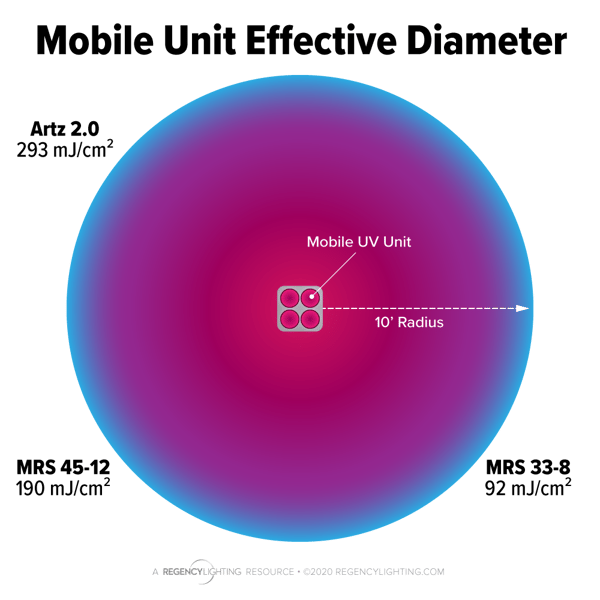 How to tell if mobile UV units are working
How can you tell if you are getting the coverage you need with mobile UV units?
There are several options available, including a card called a UVC dosimeter. The center of the card changes color based on the dose of UV received. You can also purchase UVC measurement dots. Shop your options here.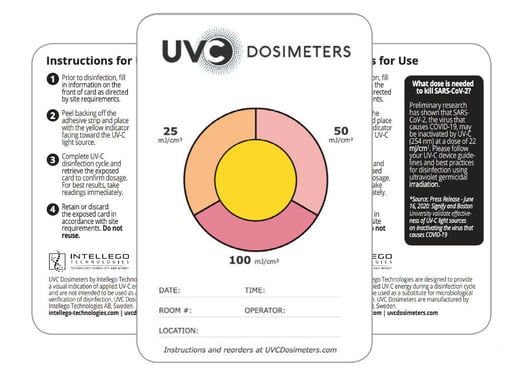 The video below shows how the UVC dosimeter works. These are a single use tool designed to help you strategize your UV disinfection plan.

The UVC dosimeters only respond to the 254 nm wavelength, so if you are using a mobile UV unit that uses LED UV, far-UV, or pulsed xenon, they will not be an effective measurement tool.
Before you start using mobile UV units, we recommend having a plan in place to measure and make sure you get the consistent coverage you want.
Questions about mobile UV units
If you need help finding the right mobile UV unit for your facility, one of our lighting specialists would be happy to help.
It's also important to remember that while mobile UV units can be extremely effective at disinfecting air and surfaces, other measures can also help protect your employees, customers, tenants, and guests.
Consider a combination of UV products, along with PPE and antimicrobial cleaning solutions, for the highest level of disinfection.
Read more:
How much do UV systems cost for HVAC equipment?
How much does upper-air UV cost?
What's the difference between HVAC and upper-room germicidal UV?