How much do UV lights cost for HVAC systems?
Posted by Luis Espino on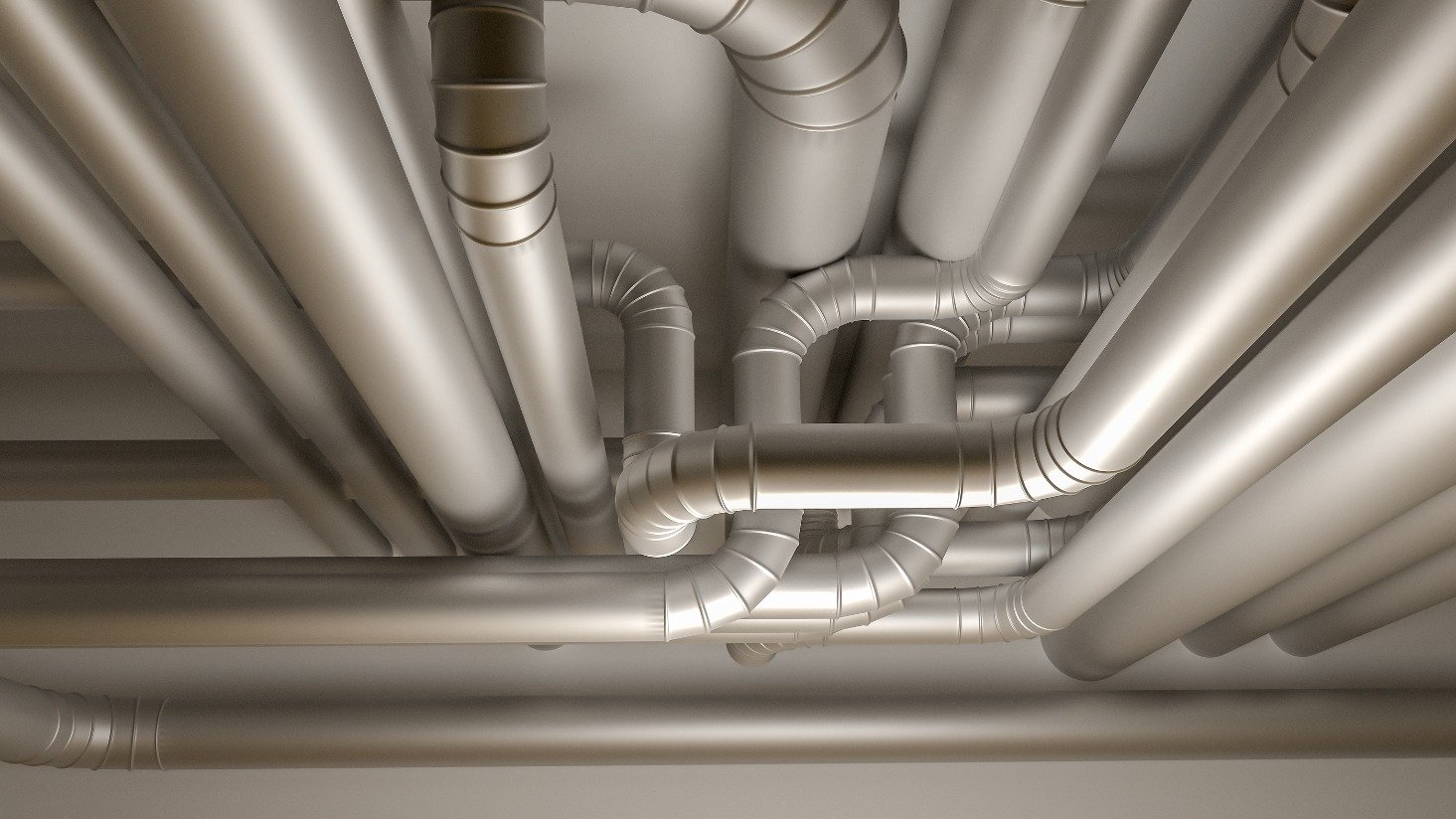 Air disinfection is critical to protecting your employees during and after the COVID-19 pandemic.
One option to consider to keep your air clean: installing UV systems on HVAC equipment.
In many cases, UV lights will help keep your HVAC system cleaner and require less maintenance.
But as with any other major project, we understand there is one big factor that could sway your decision. How much does it cost?
Before we get into the cost, let's explain how germicidal UV lights work with HVAC systems.
Types of UV lights for HVAC systems
There are two main types of UV installation for HVAC systems. The first is on-coil, where fixtures target coils and drain pans. The second is in-duct, where fixtures are installed inside the ducts of a system.
Both of these options are safe if they are properly installed by a professional. While UV-C rays can damage our skin and eyes if exposure happens, most UV systems for HVAC are designed with safety as the top priority. Aside from maintenance, there is no risk of exposure for people inside your building.
There is one potential downside to installing UV lights for your HVAC system. While they do disinfect air, the Illuminating Engineering Society (IES) found they do little to prevent person-to-person transmission of viruses and bacteria.
For example, clean air can enter a building, but if there is a person inside who is sick, UV systems for HVAC will not do much to stop that person from spreading germs via surfaces and contact.
For that reason, it may be best to combine different types of UV for the best disinfection results. We compare HVAC and upper-air HVAC in this blog.
Let's explain the installation types for HVAC systems in more detail.
On-coil UV systems for HVAC
On-coil UV systems are typically mounted so they can disinfect the cooling coils and drain pans of the HVAC system.
Typically, this works best with large systems where you have plenty of room to install the UV fixtures.
Once the germicidal UV lights are in place, they can eliminate pathogens like mold spores, bacteria, and viruses. That allows clean, disinfected air to enter your building.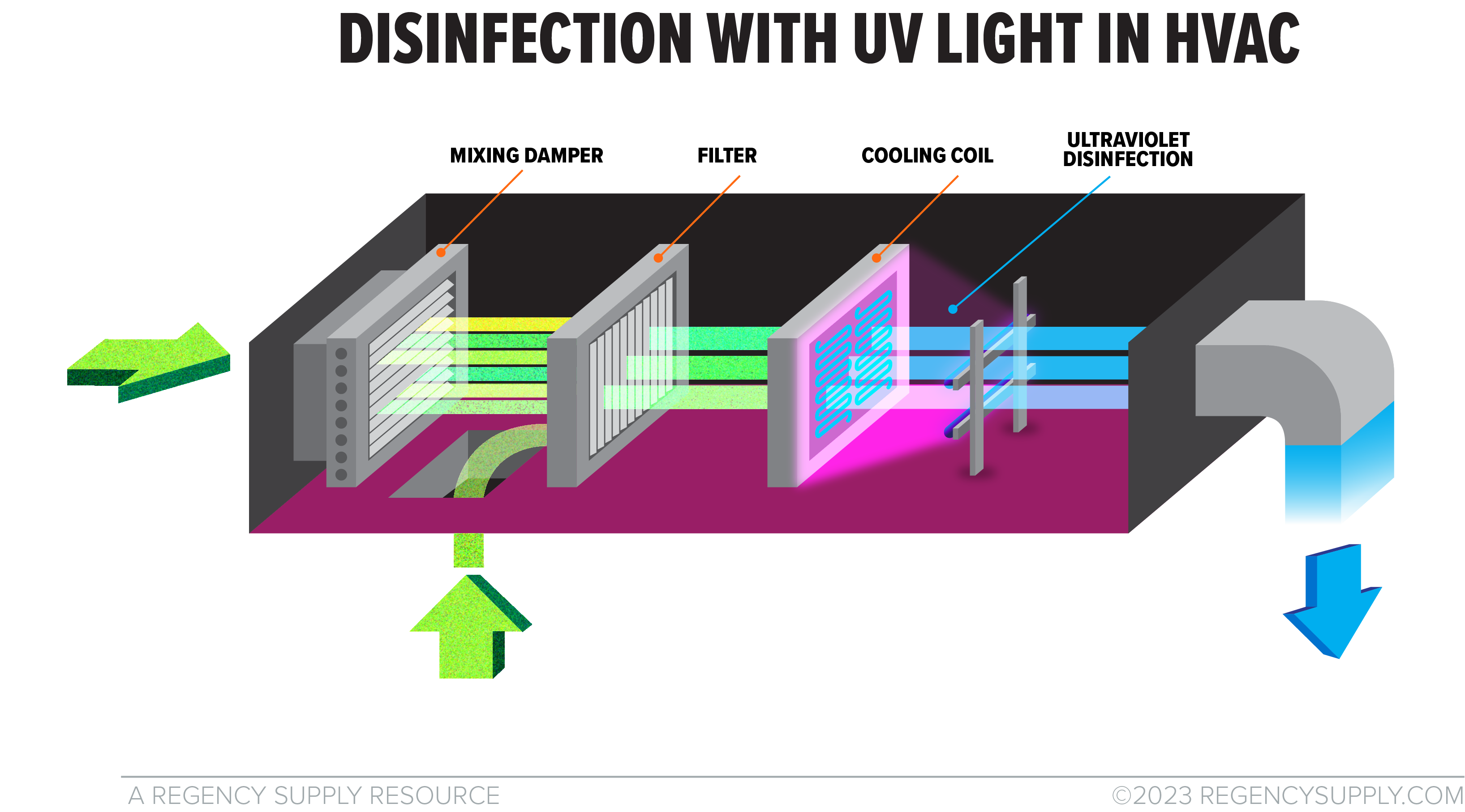 On-coil UV systems are more effective than other cleaning methods, like using chemicals. There is no harsh smell that enters the ductwork while the UV lights are running.
PURO Lighting is taking a new approach to coil cleaning with one of its fixtures, called the Helo F1.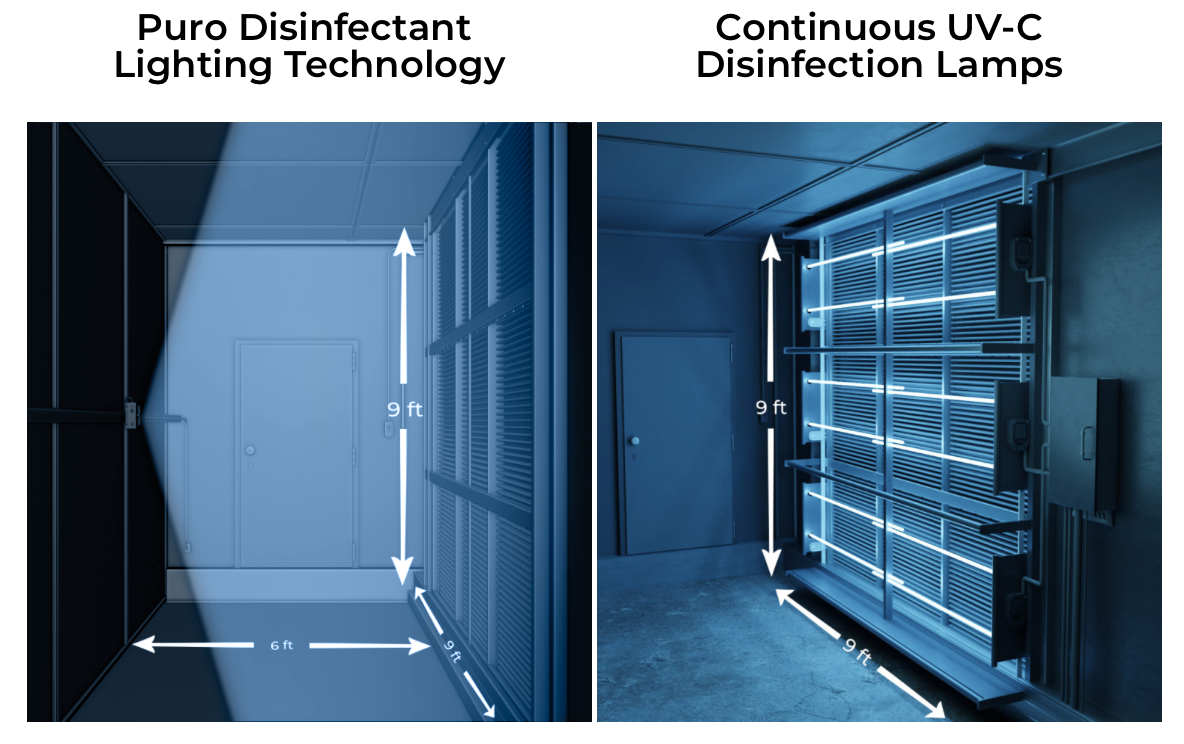 In the image above, PURO suggests mounting the Helo F1 about six feet away from the system. Instead of fixtures that run constantly, the Helo F1 runs in one to two hour cycles once a day.
In-duct UV systems for HVAC
In-duct UV fixtures are installed inside the HVAC system to disinfect and clean the air as it moves through the ducts.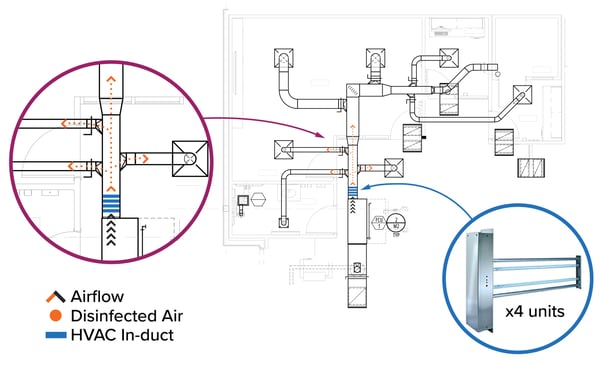 In-duct systems can be used on almost any system, so it is a great option when you don't have enough room to install a series of fixtures on HVAC coils.
As part of the installation process, you may need to add protective equipment around the UV fixtures. Although there should not be much material degradation, there may be some discoloration from the UV rays.
Cost of UV lights for HVAC systems
There are three major costs if you want to install and operate UV-C system for your HVAC equipment: initial product and installation costs, maintenance costs, and energy costs.
How much you spend will also depend in large part on the size of your HVAC system. Smaller systems will require fewer fixtures, and larger fixtures may require more elaborate set ups.
Prices of products listed below are updated as of the publish date on this article and may change based on market pricing.
Cost for on-coil UV systems
For on-coil UV systems, American Ultraviolet recommends a product called the Coil Clean (CC) series. American Ultraviolet has produced UV fixtures for multiple applications since 1960.
The CC fixtures can be mounted individually or built up in banks or racks, depending on what you need for your system. They also come in a variety of sizes, with options available from 18" to 60".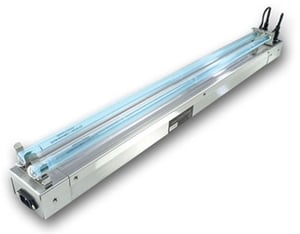 American Ultraviolet CC Series
Used for on-coil UV for HVAC Systems
Price: Starting at $511 each
On average, the cost for a UV system to fit a 9x9 coil starts at $3500.
Now we need to figure in maintenance costs. The lamps for the CC series come with a two-year (18,000 hour) guarantee with only 20% decrease in output over two years. The cost to replace each lamp is about $85. The ballast comes a 10-year warranty and the replacement cost is about $80. Plus, you are reducing other maintenance and cleaning costs on the system.
We also mentioned the PURO Lighting Helo F1 as an option for on-coil systems. You may be able to disinfect your entire system with only one fixture.
The Helo F1 comes with a one year warranty. The life of the product depends on the usage, but there are no replacement parts for PURO Lighting products. You will have to order a new fixture when your current one stops working.
The average cost for a Helo F1 for a 9x9 coil is $4,000 in materials (including mounting equipment), plus installation.
Cost for in-duct UV systems
The cost for an in-duct UV system depends three main considerations:
Amount of air flow – What is the cubic feet per minute for the unit?
Length of duct – Find the longest run of duct before it branches off.
Size of duct – The size of the duct will help determine which fixture can fit into the system.
Those three metrics will help you determine how many fixtures you will need for each air handling unit.
One standard fixture for an in-duct system is the duct clean (DC) series by American Ultraviolet. It starts at $895 per fixture.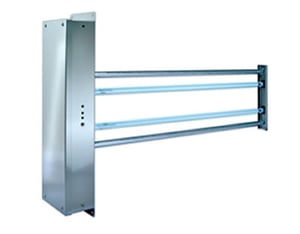 American Ultraviolet DC Series
Used for in-duct UV for HVAC Systems
Starting at $895 per fixture

The typical price range is between $3,000 to $6,000 per air handling unit. For a quote specific to your system, contact one of our lighting specialists.
Energy costs for UV lights for HVAC systems
Energy costs may be the largest portion of operating costs for UV lights. Adding any lighting fixture will increase your monthly bills, especially when the lights run constantly. But a clean system that runs efficiently can also end up saving you money on energy costs.
More specifically, American Ultraviolet says UV lights can restore heat transfer and net cooling capacity, saving you energy costs.
PURO Lighting says its solution can save even more on energy costs. Instead of running constantly, the PURO Helo F1 fixture using Violet Defense Technology produces bursts of UV energy in one to two hour cycles every day.
While the PURO Helo F1 will help reduce mold and bacteria build up on the system, you will probably not see the same disinfection results since the fixtures do not run all the time.
Questions about UV lights for HVAC
For more information on UV lights for HVAC equipment, schedule a free consultation with one of our lighting specialists. We can put together a quote for your specific situation.
Using UV in your building is only part of a larger disinfection plan. Click below to shop for PPE and other cleaning supplies, and contact us if you have any questions.