Converting T12s to LED: Here are your replacement options
Posted by Ron Pilner on

A lot has changed in just a few years in the lighting industry. Products have hit the market and the same products have already been discontinued. But the good news is — there are now plenty of options if you're ready to replace old T12 linear tubes with LED options.
One of those options — the UniversalFit LED tube by Philips — is a unique product because it is compatible with both the magnetic ballast found in most T12 fixtures and electronic ballasts that you would need to use when the old ballast finally fails. This means you should have no problem getting the full life out of a UniversalFit LED tube. More on this below. For now, let's discuss why you need to replace those T12 tubes in the first place.
Why T12 tubes are good candidates to upgrade to LED
T12 fluorescents haven't been manufactured in large quantity in the United States for a few years now, making them one of the endangered species of the lighting world. You're probably already considering options for replacing your old, inefficient tubes (especially those cumbersome 8-foot fluorescent tubes) unless you have some mega backstock.
Additionally, beginning in 2010, legislation to cease the production of magnetic ballasts – the functional heart behind T12 lamps – went into effect.
While there are still some of these 1.5-inch-diameter fluorescent tubes today, there will be fewer and fewer tomorrow. Energy regulations and the recently boosted affordability of more energy efficient lamps are snuffing T12s out. Plus, some states are starting to phase linear tubes altogether, which means it will soon be illegal to sell T12s.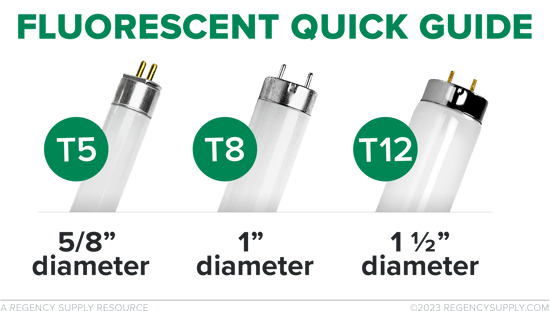 Can you retrofit T12 to LED without changing out the ballast?
The short answer: yes. This is one of the most common questions we come across. Before you jump in and make the decision to upgrade without changing out the ballast, there are other LED solutions to consider for a high-efficiency lighting option for existing T12s.
What's the best LED retrofit option for T12 replacement?
If you're converting your existing T12 lamps to LED, you have six options to choose from:
1. Install ballast-bypass linear LED lamps
Right now, a ballast-bypass is our top LED replacement option for T12 fluorescent tubes. But read carefully, because there are safety concerns. We only recommend a ballast-bypass using double-ended LED tubes. Single-ended tubes can present various safety hazards. With any ballast-bypass or direct wire solution, we suggest using a qualified electrician. Another benefit to using a double-ended tube is most are compatible with shunted and non-shunted sockets.
Ballast-bypass LEDs work straight off the line voltage flowing directly to the sockets, requiring you to remove the original fluorescent ballast. This solution might cost more in labor and sockets, but it will pay off in energy savings.
Buy ballast-bypass T8 LED tubes here.
Want to know the pros and cons of a ballast-bypass? Check out our complete article, "Plug-and-play vs. ballast-bypass and other linear LED options."
2. Install plug-and-play magnetic and electronic ballast-compatible linear LEDs
For the easiest and quickest T12 to LED upgrade, the Philips UniversalFit tubes are probably your best bet. These plug right in and work off the existing ballast. When the ballast gives out, swap it for a newer electronic ballast, and the tubes will continue to light your space. The wattage is slightly higher here than a typical ballast-bypass option, but you can't beat the simplicity of this approach. Pretty nice.
3. Install electronic ballast-compatible linear LEDs and a new electronic ballast
This is another top recommendation if you want to gain substantial energy savings, avoid mercury, and gain long life lighting. Current electronic ballast-compatible LED tubes give you great flexibility and savings, provide a solution that you shouldn't have to touch for years, and keep the up-front cost lower than a new fixture.
Buy electronic ballast-compatible LED tubes here.
4. Install a new LED tube with a remote driver in the fixture
Remote-driver LEDs are the most energy-efficient option in this list as there is no ballast draw involved in powering the lamp. This setup has a great reputation for performance and reliability, but the cost is generally a hair higher than an electronic ballast and plug-and-play lamp combo. The best uses for a remote driver LED are places where you're looking for high-performance lighting, or where you need to maximize every bit of energy savings.
Read more about ballast draw in our article, "What is a ballast factor and how does it affect my fluorescent tubes?"
5. Install an LED retrofit kit
This solution is in between an LED tube plus remote driver and a full LED fixture replacement. If you want to freshen up the look of your fixtures but you don't want to open the ceiling or completely remove old fixtures, this could be a great option.
6. Install a new LED fixture
If you are remodeling or your fixtures are in disrepair, consider an LED fixture. This option will give you maximum energy savings and a significant visual upgrade. Often the cost of a new LED fixture versus the cost of a new fluorescent fixture isn't too prohibitive. If this seems like the right option for you, check out the articles below and contact us when you're ready to find the right product.
Payback on T12 replacement options
Whether you're making spot replacements as the T12s burn out or you are working on a remodel and considering a complete T12 to LED retrofit, the payback on your lighting investment is likely a big part of the conversation. We have a few tools that you can use to help navigate the waters and cut through the calculations.
Energy Savings Calculator
Visit our lighting retrofit calculator if you need to get a quick gut-check on the proposed savings and ROI for your project.
The Ultimate Guide to Energy Savings, Calculations, and Payback
If you'd like to understand the intricate details of the savings calculations, we've got you covered. Check out our written guide to energy savings and payback calculations that can serve as a reference. Each step of each calculation is spelled out, and we also give our recommendations on when to include which variables.
A human guide
If you're looking for someone to discuss the options with, we're happy to help. You can contact us using the form below.
In an effort to serve our customers more efficiently, we're also investing in online shopping tools to make purchasing great products easier. If you're a business customer, you can sign up for an account and receive business pricing here.
This article was originally published in 2016. It has been updated with the latest lighting technology.
Read more about T12s: "The phase out of T12s: Everything you need to know about discontinued tubes"
"Here are your LED replacement options for T12 fluorescents"