How to pick a fluorescent ballast
Posted by Terri Duncan on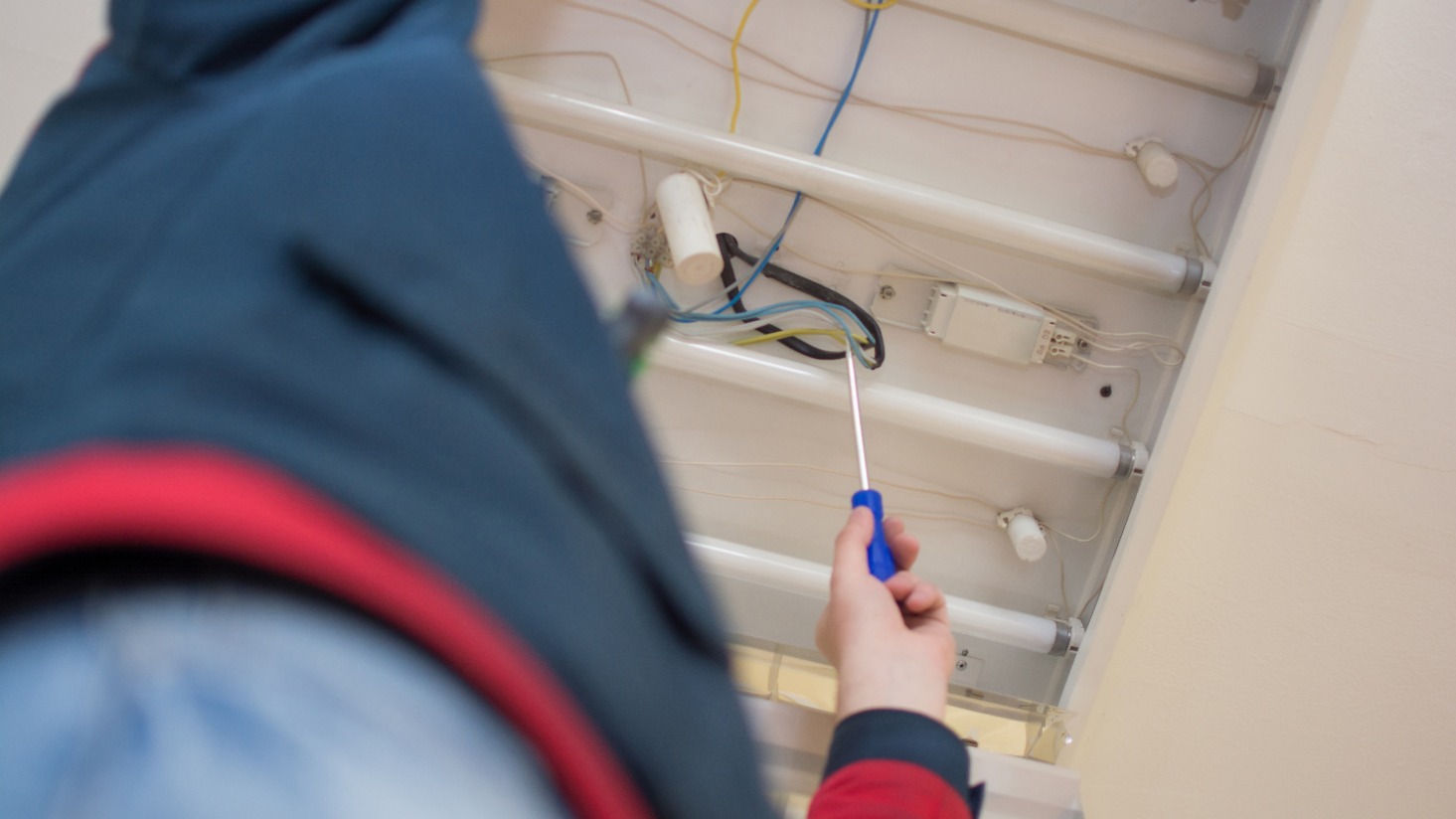 Here's the scenario: a ballast on a fluorescent troffer fails. It's either no longer available (more on that here) or you can't read the label to get the part number.
What now?
You could always take the ballast failure as a sign to upgrade to LED. But if that's not an option or you prefer fluorescent, we put together a step-by-step process for choosing a fluorescent ballast for a fixture.
Choosing the right ballast for a lamp will optimize the light output and life of the bulb.
Step 1: Consider the lamps you're powering
Fluorescent tubes come in a variety of shapes and sizes. Make sure you know what kind of lamps you're using because a T8 ballast will not work for T5 lamps.
While we are focusing on fluorescent lamps in this article, it's also important to check that the tubes aren't self-ballasted LEDs. "Plug-and-play" LEDs have become a popular option to replace fluorescent tubes when either the tubes need to be replaced or the ballast fails.
Step 2: Consider how many lamps you're powering
Ballasts are designed to power a specific number or a range of lamps. If you've got a fixture with four tubes in it, make sure your ballast will power all four.
Typically, you can find this information in the product details. Most ballasts power either two or four lamps.
Step 3: Consider what start type you need
Instant start, rapid start, and programmed start ballasts each have their pros and cons. For example, if your fixture is in a freezer, you probably want to steer clear of rapid start ballasts (which don't operate well in cold environments).
Check the chart below for the differences between the start types.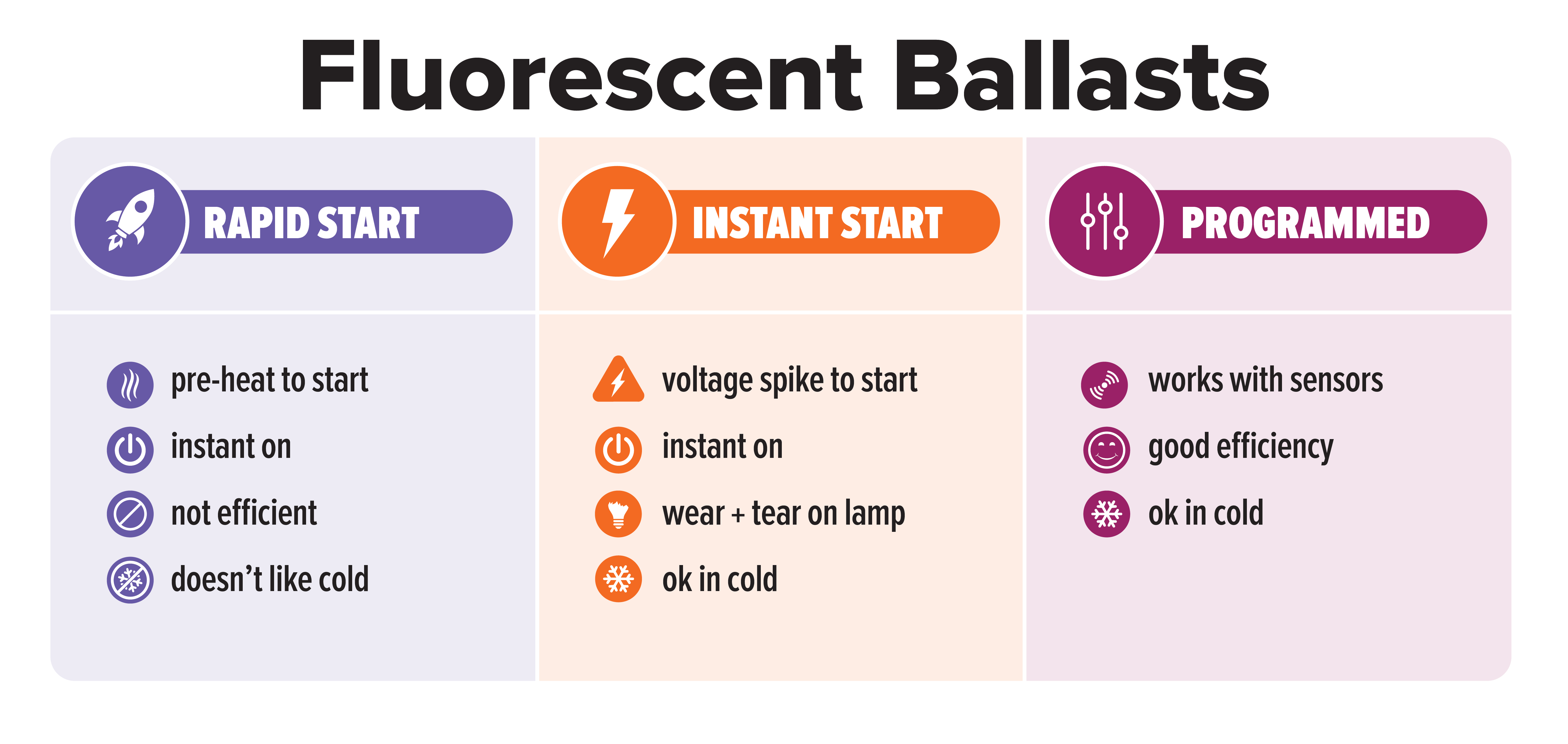 Step 4: Consider the voltage powering your fixture
Don't let voltage be an afterthought. After all, the job of a ballast is to regulate the voltage needed to start and continue to power the lamp. It's important to know the voltage coming into your fixture.
Many electronic ballasts accept multiple voltages. (These are referred to as "universal voltage.")
Step 5: Consider the dimensions of your ballast
The physical dimensions matter when it comes to ballasts. Many older troffers have plenty of room, but if you have an indirect basket, you may have space limitations. The best approach here is to measure the existing ballast and use that as a base size. The new ballast should not exceed those dimensions.
This is a critical factor because the last thing you need is a ballast that will power what you need but simply won't fix in the fixture.
Step 6: Consider the light output
Ballast factor determines the light output of the lamps. For example, lamps powered by a .88 ballast factor will produce less light than if they are powered by an equivalent ballast with a factor of 1.2. The ballast factor is primarily a determination of light output, but it also has an impact on energy consumption.
Curious when to use a low, normal, or high ballast factor? We explain more in this article.
If you're shopping for ballasts, you can use the filters on our shop site to narrow down options, and you can also search for ballasts with terms like "4 lamp t8 ballast."
In some cases, you may want a dimmable fluorescent ballast. While this is uncommon, check the specifications to make sure the ballast you are buying is dimmable and also compatible with other products, like the bulbs and dimmer.
Options when a fluorescent ballast fails
If you're dealing with ballasts in fixtures, and you're ready for one less headache, you may want to consider an upgrade to ballast-bypass LED tubes. Ballast-bypass linear LEDs – also known as line voltage or direct-wire linear LEDs – require you to remove the original fluorescent ballast and work straight off the line voltage flowing directly to the sockets.
For other options that are customized for your situation, schedule a free lighting consultation with one of our lighting experts.