Eliminating odors in commercial buildings [A simple two-step process]
Posted by Ron Pilner on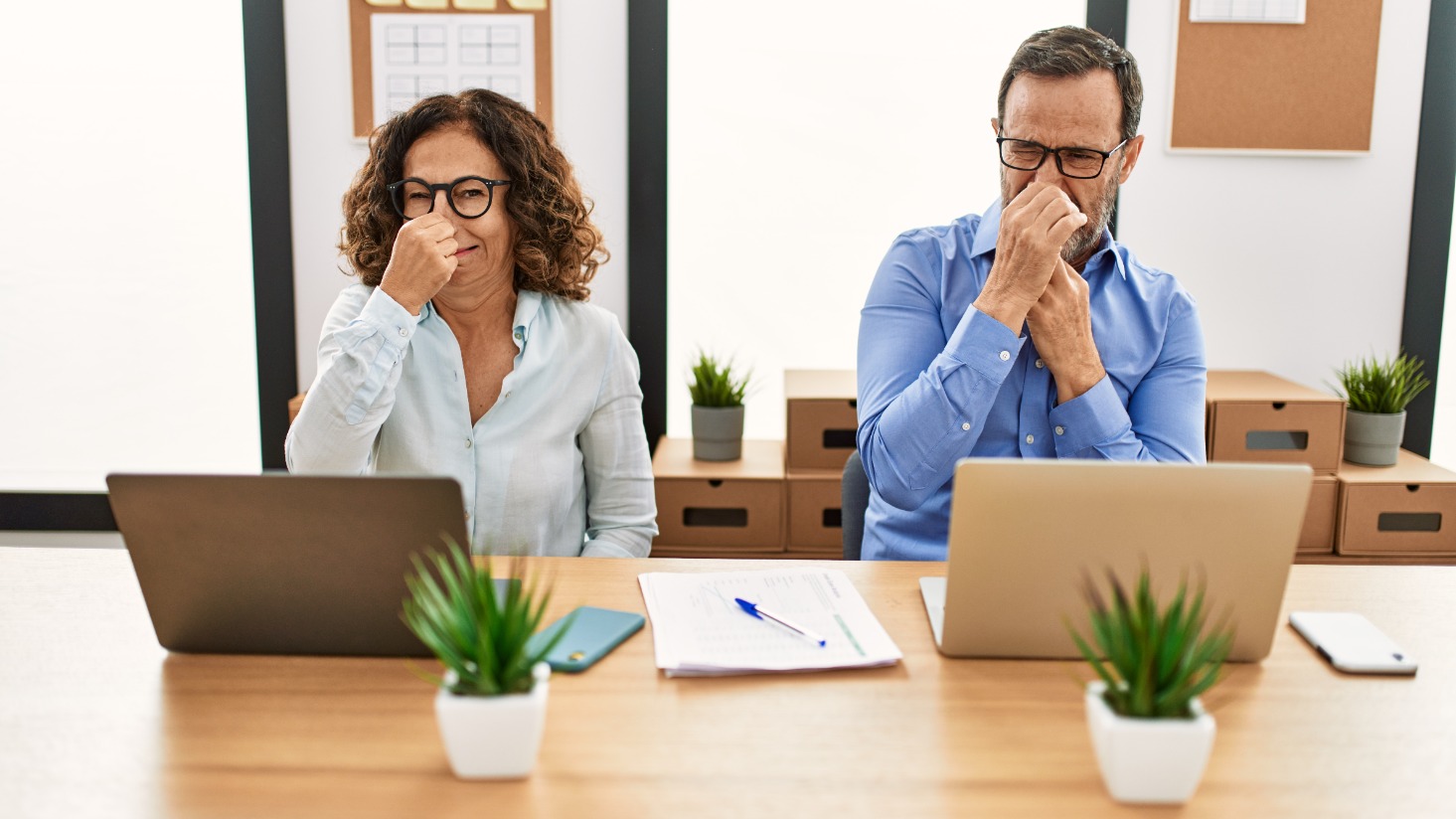 What's that smell? Restaurants, retail stores, hotels, and commercial offices may look clean, but if there is an odor, there is a problem.
Unfortunately, pesky smells are not always easy to mask. Often, sprays only work for a limited amount of time. Even once you pinpoint the source, eliminating the odor can sometimes be difficult.
Odors may also be bad for business. A nasty odor can cause a negative first impression for customers or potential tenants and create a nuisance for employees.
Getting rid of unpleasant smells is part of creating an overall cleaner, safer environment for everyone who walks into your facility. First, we'll look at common odor sources. Then, we'll explain a simple two-step process using probiotic cleaners to eliminate odors at the source.
Common odor sources in commercial buildings
If you have an odor problem, locating the exact source is critical to eliminating it for good.
Here's a look at common odor sources in commercial buildings:
Restrooms: Dirty sinks, toilets/urinals, and floors may all cause negative smells. In schools and hotels, it's common for urine odors to be problematic.
Offices and meeting rooms: Garbage left for long periods of time and high-traffic carpet and upholstery are the most common sources of odor in offices and meeting rooms. Rooms left empty during the COVID-19 pandemic may start to smell. Remodeling projects can also leave odors behind.
Hallways, stairwells, and elevators: In multifamily buildings and hotels, smells from food or old garbage can easily fill hallways. Smoking odors can also be hard to eliminate. Hallways, stairwells, and elevators are often high-traffic, so odors can easily build in carpets.
Hotel rooms: Depending on guests and whether or not pets are allowed, hotel rooms can become the perfect host for nasty odors. From trash to urine to carpet and upholstery spills, there are several potential odor sources.
Industrial kitchens: Stoves, ovens, smoke, and built-up grease can all cause odors in industrial kitchens. Often, odors in industrial kitchens build over time, which means they may be challenging to eliminate.
Exterior areas: Whether dumpsters are overflowing or you're dealing with homeless urine odors, odors can build outside a facility.
Gyms: Bacteria frequently causes odors in stand-alone gyms, hotel gyms, and office gyms.

Sweat and mold growth within a space may also contribute to bad smells.

Healthcare facilities and nursing homes: Healthcare facilities and nursing homes often fight odors when rooms are switching over for patients quickly or there is a high volume of patients in the facility.
HVAC systems: Bacteria easily grows on HVAC coils. If there is build up, it may also cause an odor that fills the entire building.
The potency of odors in commercial buildings depends on several factors, like the amount of ventilation in the space, how long people spend in a space, and a person's sensitivity to certain odors.
Using probiotic cleaners to eliminate odors at the source
Once the source of the odor is identified, the next step is eliminating the problem with a thorough cleaning.
Our top recommendation to eliminate odors at the source is a two-step process using products by Z BioScience. Z BioScience products are powerful enough to remove heavy soil, then put probiotics to work. A layer of good bacteria is left on the surface to keep surfaces cleaner longer and to get rid of odors.
The two-step process includes:
1. Cleaning with Z BioScience Multi-Task Cleaner

The Multi-Task cleaner by Z BioScience is a low-foaming biosurfactant cleaner that requires no dwell time, so you can spray and immediately wipe it off a surface. It's safe to use on hard and soft moisture-tolerant surfaces, including floors and carpets. There is no personal protective equipment (PPE) required.
The most common dilution rate is two ounces per gallon.
In some cases, odors are especially hard to get rid of, like tough urine odors. Many cities with a high homeless population experience problems with urine odors outside their buildings. In cases like this, we recommend using four ounces of the Multi-Task cleaner per gallon. Apply the cleaner in a garden sprayer either first thing in the morning or later in the evening.
2. Protecting with Z BioScience EnviroMist

After the area is clean, it's time to apply EnviroMist. EnviroMist is a concentrated microflora spray that can be applied with a fogger like this one. It can also be sprayed or misted on any moisture-tolerant surface.
The probiotics in EnviroMist provide a barrier that keeps working after it's applied.
Z BioScience products are composed of EPA listed ingredients and GRAS (generally regarded as safe) probiotics. They are eco-friendly and certified to be green.
Want to see how well these probiotic cleaners really work? We did a test. Watch the results below.
Odors and Indoor Air Quality (IAQ)
Odors can directly impact Indoor Air Quality (IAQ). However, a smell in a facility does not always mean IAQ is poor. Odor alone is not a reliable test for IAQ. The air quality may be sufficient, but nuisance odors can lead to stress and loss of productivity. Or, people may react to certain odors that others find pleasant, such as cleaning products or air fresheners.
The Environmental Protection Agency (EPA) offers three ways to control indoor odors and improve IAQ:
1. Limit the use of products or practices that cause odor problems.
All kinds of products commonly used in commercial buildings can cause problems, like cleaning chemicals. The EPA recommends using the least toxic, lowest-emitting products and following safe practices. Products labeled natural or unscented may still contain ingredients that are sensitive for some. We explain how to look at what's in your cleaning products and choose safe options in this article.
Other ways to reduce odor-causing problems include: reducing indoor humidity to between 30-60%, reducing condensation potential on cold surfaces, and keeping spaces dry to prevent mold growth and musty odors.
2. Reduce exposure to odors that may cause problems.
It's best to avoid using strong odors or fragrances inside a facility. Products that can quickly disperse through the air (like spray or powered products) may aggravate people.
3. Provide adequate ventilation indoors.
Increasing ventilation indoors can reduce odors and improve the air quality. Contaminants can increase indoors when there is not enough outside air to dilute them. Ventilation can be increased by opening doors and windows, using fans, or by HVAC systems.
Read more: 3 way to improve Indoor Air Quality (IAQ)
A game plan to eliminate odors
Eliminating odors with a thorough cleaning is a good start to eliminating odors, but to get rid of them for good, we recommend frequent cleaning.
If you're ready to implement a new game plan in your facility, contact us. One of our experts will conduct a free cleaning plan audit and guide you through the best products and options for your building.