Bipolar Ionization: Concerns and alternatives
Posted by Luis Espino on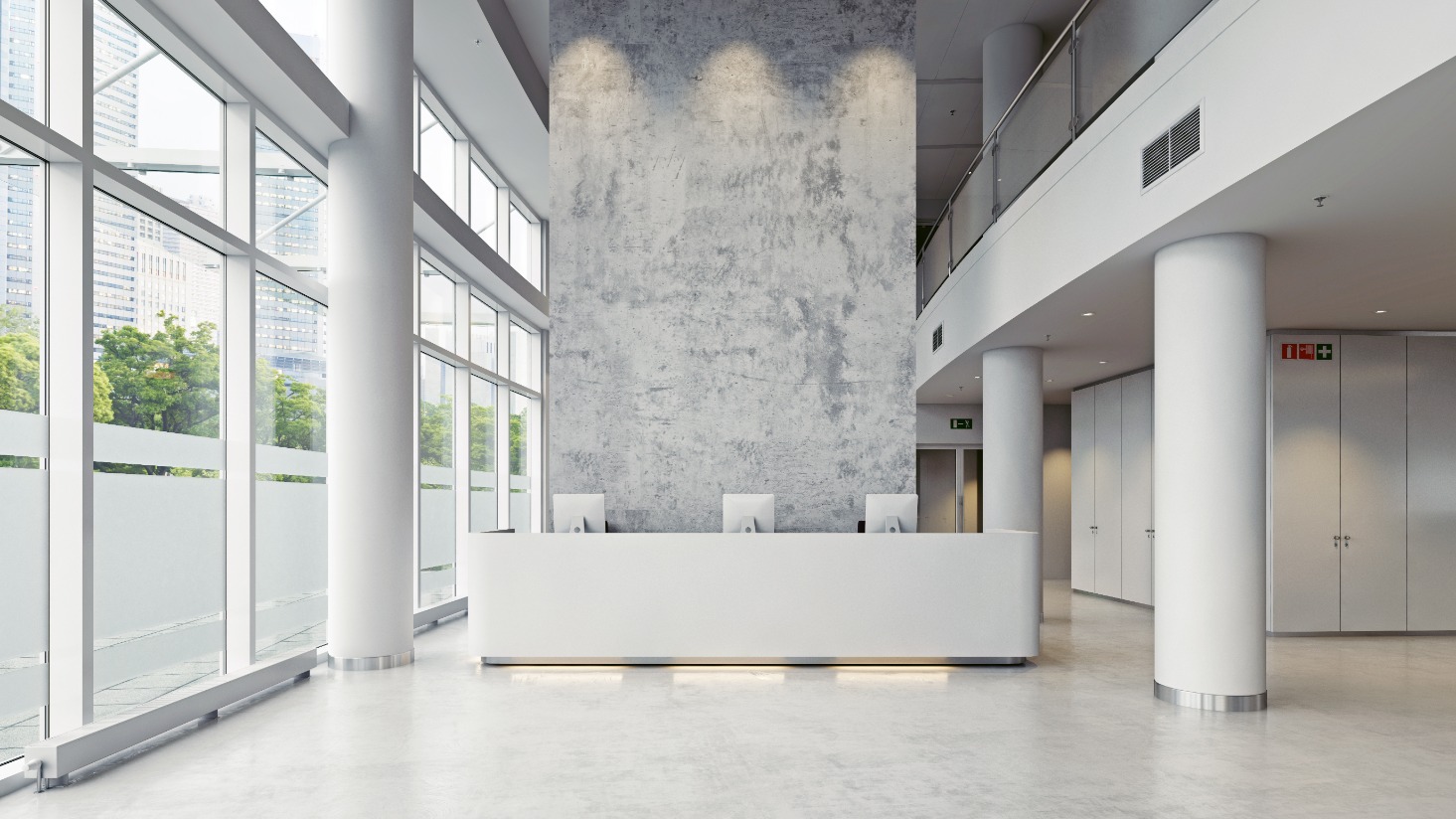 When the pandemic started, everyone was looking for ways to protect employees, customers, tenants, and students. Bipolar ionization quickly became one of the top options to disinfect air. It was touted as a potential 'secret weapon' against COVID-19.
But now, there is a federal lawsuit filed against one of the makers of bipolar ionization technology.
The lawsuit sites a study by Boeing that claims "air ionization has not shown significant disinfection effectiveness." The lawsuit claims bipolar ionization products actually "make the air worse for people."
Unfortunately, the Boeing study and the lawsuit were released after many industries adopted bipolar ionization as their secret weapon to fight the SARS-CoV-2 virus.
It's important to note the lawsuit is only against one company, but it still raises questions and concerns about bipolar ionization technology and whether or not it's safe for our facilities.
We will take a look at the bipolar ionization technology, its advantages and disadvantages, and discuss other options to safely disinfect air in our buildings.
What is bipolar ionization?
Bipolar ionization, also known as needlepoint bipolar ionization, generates positively and negatively charged particles. The technology is typically used in HVAC systems or portable air cleaners.
Bipolar ionization products release ions into the air. The ions combine with particles suspended in the air, creating larger clusters that can easily be trapped as they pass through filters.
Bipolar ionization products also have the potential to produce ozone, but that varies by manufacturer.
The EPA says because this an emerging technology, there is little research available about how bipolar ionization works outside of a laboratory setting, so there is little evidence about the safety and effectiveness of the products.
Manufacturers should provide data that describes the efficacy of the product and how well it removes pathogens from the air or surfaces. The CDC recommends closely reviewing manufacturer data, as products range from ineffective to effective at cleaning the air. Ask for testing data and potential dangers, like exposing occupants.
If you are unsure if your current air disinfection product uses bipolar ionization, check the label or contact the manufacturer.
Advantages to bipolar ionization
Bipolar ionization technology has several advantages, including the following:
Can be effective against viruses and bacteria in the air, depending on the manufacturer and application
Can be effective against viruses and bacteria on surfaces, depending on the manufacturer and application
Although it's considered an emerging technology, industries like healthcare have used bipolar ionization for decades
Disadvantages to bipolar ionization
There are several disadvantages to bipolar ionization technology, including the following based on guidance from ASHRAE:
Limited data and peer-reviewed studies that supports disinfection claims
Systems may emit high levels of ozone, depending on manufacturer
Systems may range from ineffective to effective in reducing airborne particles like viruses and bacteria
People may be exposed to ions or other chemicals released into the air
For more information, see the ASHRAE Position Document on Filtration and Air Cleaning and CDC Response to ASHRAE ETF on Bipolar Ionization.
What to look for when considering Bipolar Ionization products
The CDC encourages anyone looking to purchase any type of emerging technology, including bipolar ionization products, to do their homework.
But what specifically do you need to look out for?
Here are a few suggestions:
Data on what the products release into the air, as it could impact the safety of occupants in the space or aggravate existing health conditions
Performance data from as-used conditions, including some independent, third-party sources
Lawsuits or potential lawsuits filed against manufacturers
Limited case studies, unsubstantiated claims, or studies with no reference controls (i.e. no baseline data to show how effective the technology is) should be a red flag
Verify equipment meets UL 867 standard certification or UL 2998 standard certification for levels of ozone produced
Alternatives to Bipolar Ionization
There are other ways to disinfect the air and surfaces other than bipolar ionization that are proven to be safe and effective.
Recommendations for clean air
1. Light Progress UV Fan
The UV Fan fixture by Light Progress is our top recommendation for air disinfection. The fixture features enclosed UV-C lamps (so there is no risk for exposure) as well as a titanium dioxide filter that never has to be replaced.

The UV FLOW works by constantly bringing in air, disinfecting it, then releasing the clean air back into the space.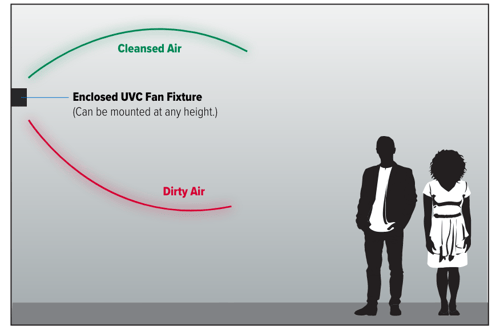 Click here to shop for different options.
2. Upper-air UV-C fixtures
Upper-air or upper-room UV-C fixtures are similar to the UV Fan, but work by directing UV-C rays into the upper portion of rooms. The UV-C energy disinfects air in the upper area, which eventually moves into the lower area of a room.

Upper-air fixtures with UV-C LEDs are also emerging on the market. The sleek, modern fixture by Luminii uses the same air disinfection method with slightly different technology.

Click here to shop options for upper-air fixtures.
3. HVAC UV-C and coil disinfection
The HVAC system has a large impact on the transmission of pathogens in a space. Cleaner, more effective HVAC systems are proven to reduce transmission.
There are multiple ways to improve your HVAC system, including filters and UV-C lamps. Both of these options are recommended by ASHRAE.
Filters should have a MERV rating of 8 or higher. UV-C lamps can be installed on ducts or coils, as pictured below. Click here to read more about HVAC options.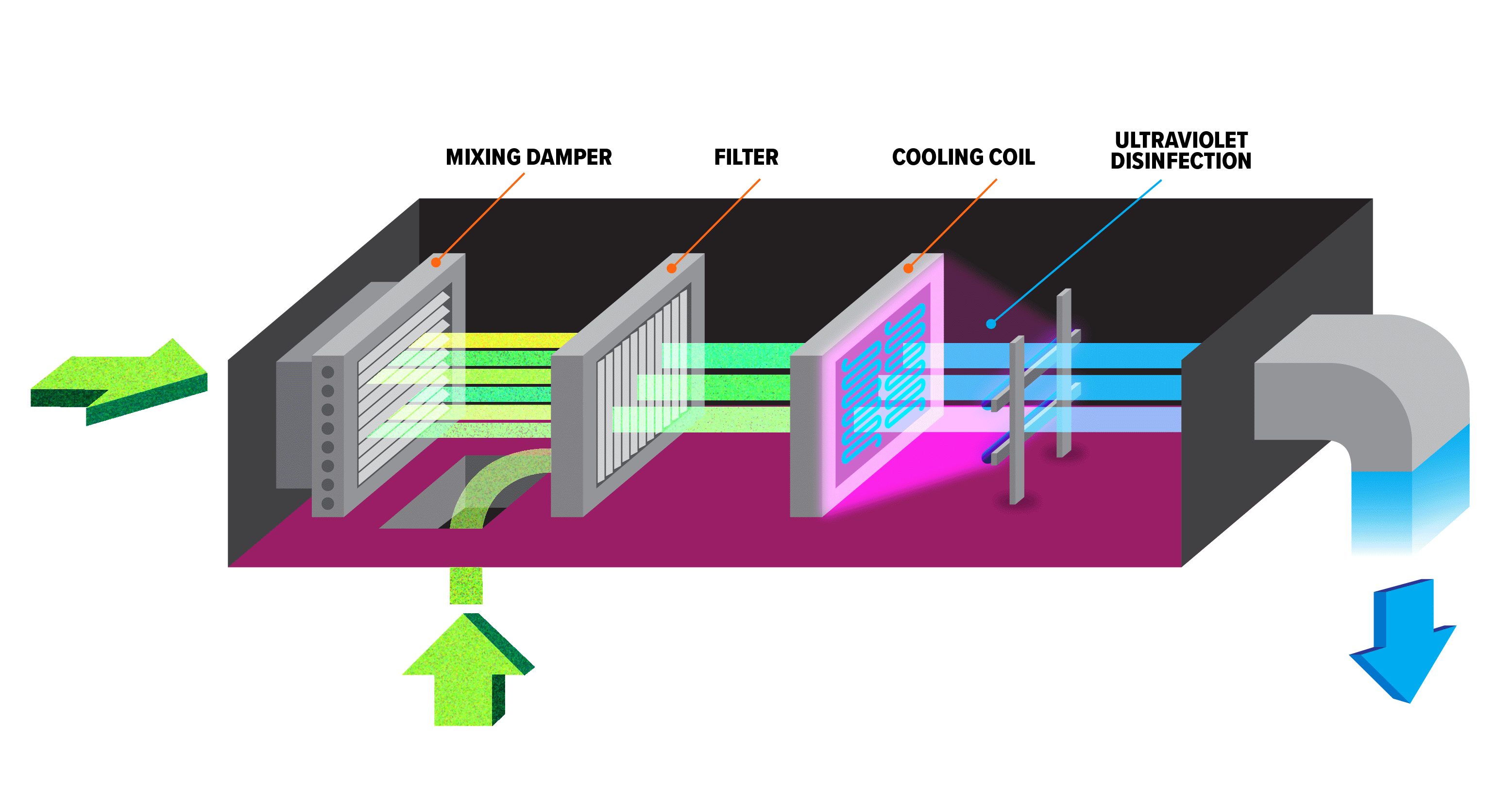 ❗PRO TIP: Washing and coating your HVAC system can improve overall efficiency and result in lower bills. Contact us for more information.
All of these methods also improve the indoor air quality in a space. For professional recommendations on creating clean, safe environments, click here for a consultation.
Recommendations for clean surfaces
To maintain clean surfaces, you need the right products. Surfaces can become contaminated again seconds after cleaning or disinfecting. There is also the threat for biofilm to stick to surfaces, creating clusters of pathogens.
We have two cleaner options with ingredients that continue to clean surfaces even after they are wiped off.
Creating clean environments
Creating overall clean environments is now the focus for many companies and businesses. If you need help finding the right solutions for your facility or building, contact us to speak with one of our experts.