How LED will change the way you approach retail lighting design
Posted by Brent Shelly on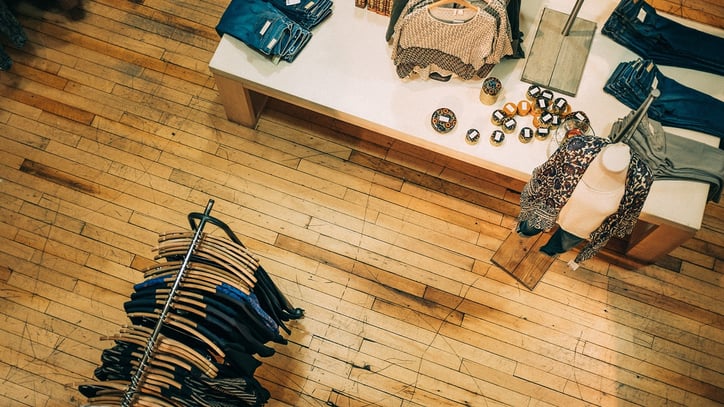 LEDs are shaking up the way we think about lighting design. The small size, optical engineering, efficiency, and flexibility of LED lighting is enabling the design community to be more precise, creative, and sustainable than ever. Here is a handful of ways that LED lighting is affecting retail lighting design:
Be specific: LEDs give greater ability to put light where you want

The visual interest created by contrasting light and dark areas, proper accent ratios, and highlighted textures can give retail spaces a unique look and feel. You communicate your brand through the way your store looks and feels when a customer walks in. One of the great tools for a designer in creating that branded feel is the way that you use light and highlight your products.
LEDs produce incredibly directional light and lighting engineers are putting an amazing amount of thought into the optics that control where the light ends up. The combination of these factors means that LED lighting gives you an unprecedented amount of control over where you place light in your retail store. Here are a few applications where LED lighting really shines:
Accent lighting: Draw your customers' attention to specific products or displays more easily by creating more dramatic contrast ratios.
Textural highlights: Highlight the textures (stone, wood, etc.) in your store with LED wall-graze fixtures.
Shelf or display lighting: Low-profile linear LED lighting works great for shelf, case, or display lighting. You can effectively light every single shelf.
Ultimately, being able to put light exactly where you need it means greater efficiency in your lighting system. More on that to come.
Be creative: LEDs give more flexibility with color and creative applications

Creativity is a staple in fresh design. As you look for new ways to highlight and display products, LED lighting can be an excellent tool. Here are a few innovative LED products and applications you might find interesting:
RGB (red, green, blue or multi-colored) LED lighting: You can program these fixtures to nearly any color or program them to change color over time. This works great in coves, under counters, or as wall washers and does well to add excitement and energy to a space.

Low-profile linear LED lighting: The ultimate in flexibility, low-profile LED fixtures can be used under shelving, under counters, in coves, in display cases, or countless other applications that were not previously possible.
Make sure that you go with quality when you're looking for innovative or new products. The explosion of LED manufacturers has brought exciting innovation as well as warranty and quality risks that you need to consider carefully. If you're interested in the latest lighting products the industry has to offer, one trade show you might consider is LIGHTFAIR International. That said, the lighting world is becoming increasingly complex and can be overwhelming.
Be sustainable: LEDs enable an unprecedented level of sustainability in design

Perhaps one of the most exciting aspects of LED lighting is its incredible efficiency. For a while, that efficiency came at the price of light quality, but the latest products on the market can render colors beautifully while delivering unmatched efficiency. Now that the visual performance of LED lighting has improved, it can be a major asset in sustainable design.
As you plan your new designs, consider how the efficiency of LED can help your organization. From reducing operating costs to capturing LEED (Leadership in Energy and Environmental Design) points, sustainable design may even help bridge the gap between internal departments.
One study that may help as you plan for sustainable design addresses the environmental impact of LED lighting over the entire product lifecycle. This study by Philips shows that an LED MR16 has five to six times less impact on the environment than its halogen counterpart.
So what does LED lighting mean for retail lighting design today? You have a unique opportunity to use lighting in reinforcing your brand, making a visual impact to stand out from the crowd, and showing your creativity.
If you found this helpful, you may want to download our e-guide, "Retail Lighting Design Tips & Tricks."