Why lighting design can save developers money on construction projects
Posted by John Spring on

Why lighting design can end up saving developers money on construction projectsWhy lighting design can end up saving developers money on construction projectsWhy lighting design can end up saving developers money on construction projects
There are always two main goals for real estate developers working on a construction project: finish on time (or sooner) and finish on budget (or better).
To help with the lighting portion of the project, it's common to bring in a lighting designer for specific high-impact spaces like lobbies or amenity spaces. It's also common to rely on value engineering to reduce costs when bid time comes around.
But we've found that working with a lighting designer on other aspects of the project — and taking a different approach to value engineering — can save real estate developers the two most important things: time and money.
How developers can save on lighting costs
Any time a project has to be value-engineered late in the process, you can safely add weeks to your project timeline. We understand why value engineering is typically the go-to option to save on costs. If fact, there are times when we help developers value engineer a specification to meet their needs. However, what if you could avoid the value engineering crunch to begin with? Can teaming up with the right lighting design team who can also help source product get the results you want?
Here's a look at three ways real estate developers can save on lighting costs, and make the project process much smoother.
1. Avoid the value engineering crunch
Value engineering and construction seem to go hand-in-hand. It's often considered an integral step in the project to reduce costs.
But from our experience, we've found that value engineering too late in the project can often lead to delays. The back-and-forth associated with updating the plan sets is typically where the most time is lost. Another downside to value engineering is the potential for introducing under-performing products.
To reduce the amount of lost time and underperforming products, we recommend working with architects and design teams at earlier stages in the process.
Because we have the benefit of a lighting design team (RL Studio) as well as access to thousands of products as a lighting distributor, we can offer design resources and procure the exact fixtures specified during the Schematic Design or Design Documents stage at a pre-negotiated price. This collaboration ensures the desired design intent, fixtures that meet budget, and clear lead time expectations.
When our project managers and procurement team are able to dial in cost and lead time for the lighting before the project gets underway, the need for value engineering during the bid stage is eliminated. Our goal is always to reduce costs on projects without sacrificing quality and the original design intent.
2. Focus on areas where lighting design matters
If you think of the the top areas where lighting design really matters, you probably think of statement pieces like the one below featured in the American Girl flagship store.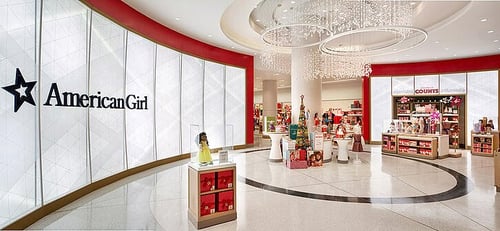 The centerpiece created an inviting look and elevated the design of the property. While there are places where premium fixtures are definitely worth the extra money, there are other areas where a lighting expert can help optimize your lighting plan for savings.
How do you know where those areas are? Working with a lighting expert can help identify where it's worth making an extra investment.
For example, our team reduced the specification for a 4,500-space parking garage by 500 fixtures (almost 20%) and improved light levels across the board. Yes, our lighting design team can work on any area that drives value for our clients — even the less glamorous places like parking garages.
While an electrical engineer often specifies areas like parking garages, a lighting designer might just make your job a little easier.
3. Rely on project management and logistics
Project management and logistics are critical when you're working on a new construction project. There are a couple of ways that we've seen projects run smoother when it comes to lighting.
First, work with a team who can negotiate pricing up-front. Lighting packages are often specified without considerations for pricing or lead times. When it's time to install light fixtures, and the product isn't there, it can cause delays and frustration.
We handle details like negotiating up-front pricing so projects are more predictable and stay on track.
Second, we generally recommend consolidating lighting purchases to the fewest number of manufacturers. The result will be more buying power and better volume negotiations.
Benefits of lighting design for construction projects
Lighting design offers a great return when it comes to lowering costs and reducing headaches on new construction projects. In fact, our work on a multi-family pool deck resulted in $12,000 in immediate savings and addressed lighting compliance issues that would have threatened the project.
We know that lighting can be a pain for real estate developers — which is exactly why we set up our lighting design team as a studio designed to handle these problems with a seamless handoff to our project management team to source the product.
And if you're already underway on a project and need to find ways to save on your lighting package, we can still help with a VE spec that will meet your needs an preserve the aesthetics of your space.
If you have a project you'd like help with, you can schedule a consultation here. If you'd like to learn more about RL Studio, our in-house lighting design studio, check out their portfolio.