Three ways to save on new construction lighting without value engineering
Posted by Tori Cole on

When you're working on a new construction project, value engineering and savings seem to go hand-in-hand. But we like to take a different approach to value engineering and saving our clients money.
Keeping a new construction or remodel project on-track is one of the most challenging parts of the job. From our experience, value engineering can often lead to delays.
We'll explain how our lighting specialists can keep your lighting package on-time and on-budget without sacrificing quality.
The disadvantage of value engineering
Value engineering typically involves reducing costs by reducing the amount or the quality of products used. Value engineering is often considered an inevitable step in the construction project.
But we've found that value engineering often throws a wrench into original plans and can often complicate projects. The result: lost time and underperforming product.
Our team works to find other ways to reduce costs on projects with products that continue to save energy and complement the original design intent.
How to save on new construction lighting without value engineering
Project management and logistics are critical when you're working on a new construction project. We believe in handling details and finding savings so you can operate on schedule and within budget.
Here are three ways to avoid the value engineering crunch while still saving on new construction lighting.
1. Get negotiated pricing from the beginning
Often lighting packages on new construction projects are initially specified without considerations for pricing or lead times. This can be an efficient way to specify a project and get approved plans, but in the long run, this can cause delays and frustration. Any time a project has to be value-engineered, you can safely add weeks to your project timeline.
When you work with a team who can negotiate pricing up-front, the result is more predictable, on-time projects.

2. Consolidate manufacturer specifications where possible
It's generally not possible to specify a single manufacturer for all lighting on a project. Most commercial lighting projects involve a variety of fixtures and types of lighting, and one manufacturer most likely will not have the very best option in terms of efficiency and design in every category.
But if you're able, consolidating lighting purchases to the fewest number of manufacturers will give your more buying power and allow you to benefit from better volume negotiations. Plus, fewer manufacturers will be helpful when it comes to handling rebates and warranties.
3. Save high-end lighting for high-impact applications
There are places where premium lighting fixtures are worth the extra money. Statement pieces in a lobby, high-quality accent lighting, or centerpieces in an area can all elevate the design of your property.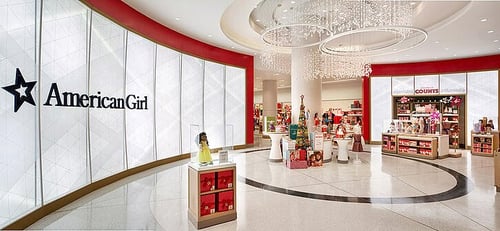 The central fixture in the flagship American Girl is certainly eye-catching and a show stopper, creating a feeling of elegance that's both inviting and sophisticated. The store was designed by our lighting design team, RL Studio.

With that said, there are many fixture types that don't necessarily need to be specified with a premium fixture.

Working with a lighting designer can help identify where high-impact areas are worth the extra investment.
How Regency Lighting helped a customer save more than $60,000 in materials and nearly five percent in energy usage
Lighting design recommendations
When it comes to lowering the cost and reducing headaches on a new construction project, lighting is an area where you could see a great return.

We often hear from architects and developers that lighting is just a pain. To help solve this problem, we set up our lighting design team as a studio designed to handle these headaches.
Our team of certified lighting designers are able to assist with cost-reductions at any stage of a new construction project. From working with architects on cost-efficient lighting designs in the planning phase to helping with cost and lead time overruns later in the project, RL Studio and Regency Lighting are equipped to make lighting easier for you.

If you have a project you'd like help with, you can schedule a consultation here. If you'd like to learn more about RL Studio, our in-house lighting design studio, check out their portfolio.