UT Dallas retrofits from HID to LED in arena to boost performance and controllability
Posted by Sean Walters on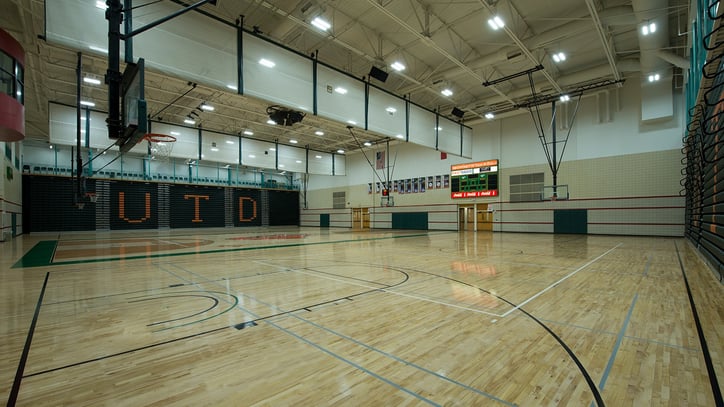 The University of Texas at Dallas faced a number of problems with the metal halides it was using to light its Activity Center. If you've used high intensity discharge (HID) lighting before, you can probably empathize with their troubles. The challenges the university was facing with its HID lighting system are commonplace – the very ones you'd expect with HID.
Click here to see how we helped make UT Dallas' lighting easier
5 common problems with HID lighting
1. HID ballast problem or HID lamp problem?
If you're lighting your space with metal halides, like UT Dallas was, you know that it can be difficult what the cause of a burn out is – the lamp or the ballast. This is especially problematic if you're lighting a space like a gymnasium, where the light source is suspended high in the air and where special lifts may be required to not damage an expensive hardcourt floor.
So, when a burnout occurs, and you rent a lift to swap out the lamp, only to realize that the lamp did not need to be replaced, because the ballast was actually at fault, that's a problem. Now you've got to fetch a replacement ballast and re-wire that to your lamp, which may or may not be burnt out.
HID ballasts consistently face problems and contribute to others, like flickering, premature burnout, and more.
At UT Dallas, diagnosing the cause of a burnout could be an ordeal due to this very reason.
Learn more about HID lighting in our post, "What is HID lighting? Is it right for your application?"
2. Color shifting
HID lamp types – like the metal halides in UT Dallas' sockets – tend to "color shift," putting out pink, green, or purple hues of light after a period of use. When you're hosting important, high-profile events like basketball games and graduation ceremonies, faded lighting is obviously a problem you'll need to solve. And more often than not, re-lamping is the only solution for a problem like color shifting.
3. Lack of control
HIDs aren't known for their controllability. Far from it, when UT Dallas wanted to create a dimmer setting for certain functions – like graduation ceremonies – it had to unscrew lamps from the ceiling to lower light levels, only to have to re-install them when the event concluded.
Another thing UT Dallas had to do in the Activity Center: light the center court with 1,000 W metal halides while lighting each of the side courts in the triple-wide gymnasium with 400 W equivalents. This worked okay for events like basketball games, but during the middle of the day, when practices and intramurals took place, the side courts could feel dingy "like dungeons" according to faculty at the university.
4. Lumen depreciation
A lot of metal halides and other HID lamps come with a long rated life, but generally lumen output begins to decrease about half way through that term, gradually fading as burnout nears.
In an application like a gymnasium, this can look bad to both spectators and competitors, with bright spots and dim spots throughout the playing surface.
Have a parking garage lit by HID? Want to retrofit? Here's an HID-to-LED retrofit we did recently.
5. Warm-up time
Who could forget the "black out" Super Bowl at the Superdome in New Orleans? The power went out, but was restored relatively soon. Yet, the delay was significantly prolonged due to the slow warm up time of HID lighting.
Warm-up time is a key drawback of HID lighting. It can be a nuisance to have to wait for the light source to reach full illuminance.
We helped the Staples Center in Los Angeles retrofit to LED. Read more.
How UT Dallas found lighting success in its gymnasium with an LED retrofit
UT Dallas retrofitted away from its existing HID lighting system to integrated LED fixtures manufactured by RAB. Not only did the retrofit maximize the facility's ability to dial in lighting levels for different events and functions, but it also allows the facility manager to remotely turn the lights on and off from a smartphone.
Learn more about LED dimmability here.
Additionally, the increased quality of the light output in UT Dallas' conversion to LED is not only enjoyed by the fans and athletes in the building, but also by the television viewers tuning in from home.
The switch to LED also eliminated a number of headaches for the university. No longer will they have to diagnose the cause of a burnout nor manually remove lamps to manipulate lighting levels. They also won't have to worry about spottiness from lumen depreciation and color shifting.
Read more about the project here.