How to pick an LED that is the same brightness as my old light bulb
Posted by Terri Duncan on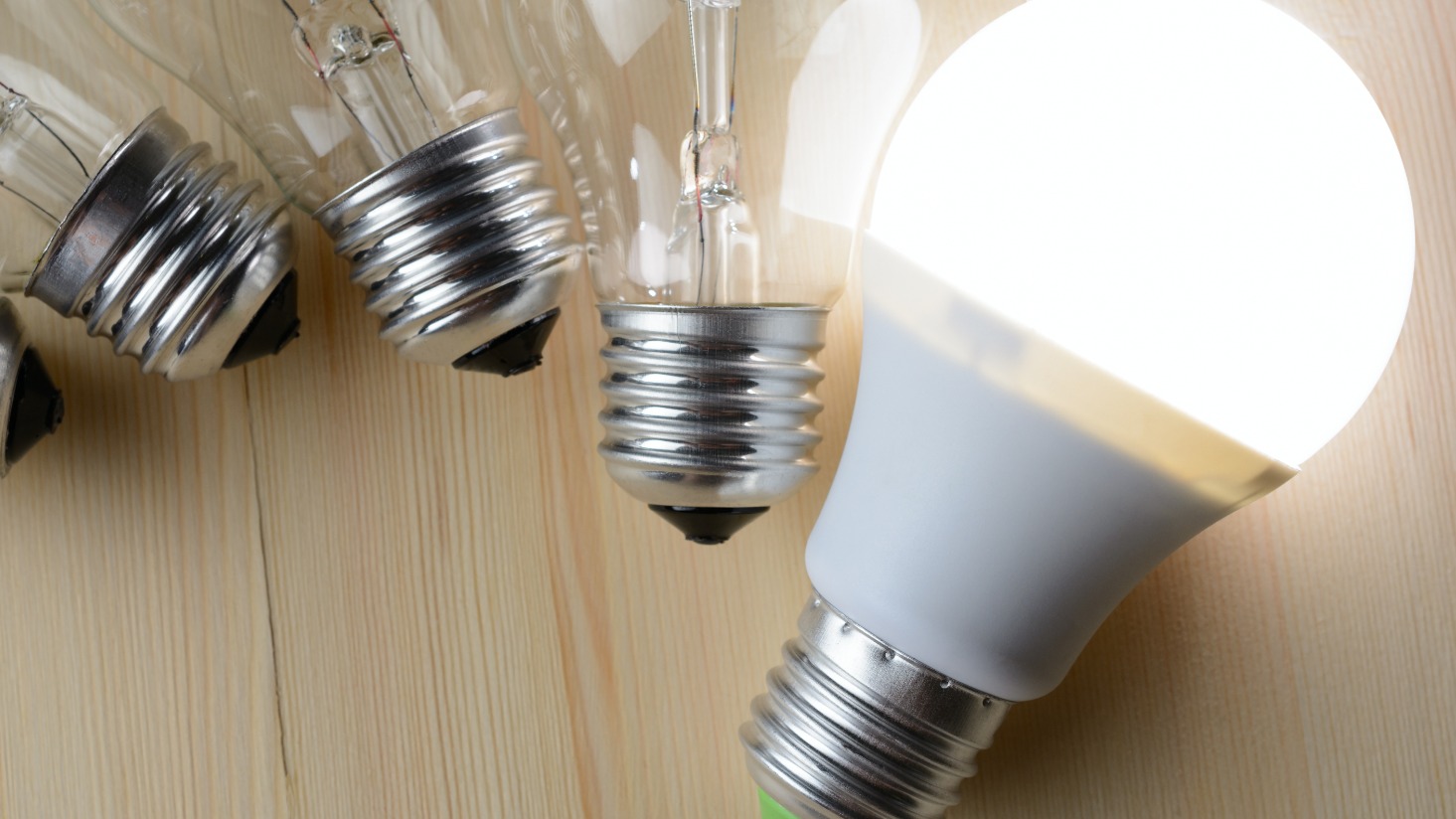 Have you purchased an LED bulb only to be disappointed with the light output when you turn it on? Finding the right LED for your space can be tricky if you're moving from incandescent, halogen, or CFL products.
LEDs were designed to be more energy efficient, which means they have a lower wattage for a similar light output. Wattage used to be the main factor in brightness. The higher the wattage, the more light would be emitted from the bulb. Now, LEDs have lower wattages to save energy, so it's no longer a good determination of light levels.
If you purchase LEDs based on wattage, you will likely buy a bulb that is too bright or just doesn't work in your space. Instead of focusing on wattage when purchasing LEDs, it's best to look at lumens to determine the brightness, or light output, from the bulb.
Note: If you're having trouble finding the right color for your LED bulb, check out this article.
Before we dive into the specifics (you can jump ahead to our comparison chart here), let's discuss lighting terms you need to know when purchasing LEDs.
Lighting terms to guide your LED purchase
If you're purchasing LEDs, pay close attention to the following terms to determine the right light output.
Wattage

- Wattage is a measurement of the number of watts a light bulb consumes. In short, it measures energy. Because LEDs are most energy efficient, most use less energy and have a lower wattage than traditional lighting products.

Lumens

- Lumens are the measurement of how much light a lamp puts out, or how bright a light bulb appears. Comparing

lumens of an LED lamp to the lumens of a traditional lamp will help determine if an LED lamp will be bright enough to directly replace your traditional lamp.

Center beam candle power

- Center beam candle power measures the intensity of light at the center of a beam of light. This is an important measurement for spot and accent lighting. Although we will primarily discuss lumens in this article, sometimes it isn't enough to only use the lumen output when determining if a lamp will be bright enough.

Efficacy -

Efficacy is a ratio of how many lumens (how much light) are produced per watt of energy consumed. The higher the efficacy ratio, the more efficiently your product is performing. You can think of this like miles per gallon. A more efficient car (like a more efficient light bulb) gets more miles to the gallon (more lumens per watt).
Many LED products will have a lighting facts label, like the one pictured below.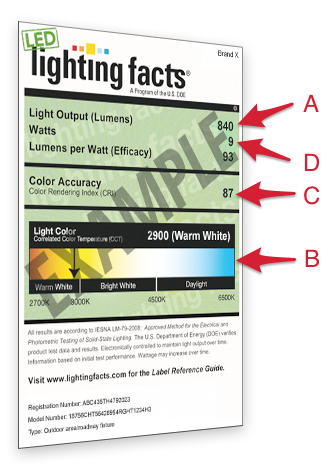 If you're looking for some of these specs, they should be easy to identify on the label. You can also compare across different manufacturers.
LED recommendations to solve for brightness
As we've mentioned, we need to focus on lumens instead of wattage when purchasing LEDs.
To simplify the process for you, we've created this chart with the traditional wattage on the left and the equivalent lumens for LEDs on the right. Also included is a link to purchase the LED equivalent on our online store.
For example, if you have an A19 that's 40 watts, look for an A19 LED that's between 300 and 600 lumens. That should give you similar output.
Lighting product
Wattage for traditional lighting products
Equivalent lumens for LED bulbs
A19

40W

300 to 600
Shop here

60W

601 to 800
Shop here

75W

801 to 1200
Shop here

100W

1201 to 1800
Shop here
R20

50W

500 to 600
Shop here
BR30

65W

500 to 700
Shop here
MR16

20W

250 to 400
Shop here

35W

500 to 700
Shop here

50W

700 to 900
Shop here

50W (IR)

901 to 1100
See note #1


75W

901 to 1100
See note #1

PAR20 (Halogen)

50W

500 to 600
Shop here
PAR30 (Halogen)

75W

900 to 1100
Shop here
PAR38 (Halogen)

39W to 45W

500 to 520
See note #2


50W to 55W

850 to 1100
Shop here

60W to 75W

1100 to 1400
Shop here

80W

1500 to 2000
Shop here

90W

1200 to 1300
Shop here
T8

32W

2300 to 3100

CFL 2-Pin

5-7W

250 to 402
See note #3


9W

525 to 600
Shop here

13W

750 to 900
Shop here

18W

1100 to 1300
Shop here

26W

1700 to 1850
See note #3

CFL 4-Pin

13W

775 to 900
Shop here

18W

1100 to 1250
Shop here

26W

1500 to 1825
Shop here

32W

1900 to 2650
Shop here

42W

2300 to 3200
See note #3

CFL 2G11 Base

18W

1200 to 1300
Shop here

24W

1800
Shop here

28W

2600 to 2800
See note #4


36W

2900
See note #4


40W

3150 to 3500
See note #4


50W

4000 to 4300
See note #4


55W

4800
See note #4

HID
(Metal Halide)

100W

5500 to 10000
See note #4


175W

12000 to 17000
Shop here

250W

17000 to 26900
Shop here

400W

30000 to 42000
See note #4

Notes:
These are a difficult replacement to find. In this case, comparing Center Beam Candle Power (CBCP) may yield the best results.
Many LED PAR38 lamps are brighter, which is great for accent lighting. If you're looking for a lower-output PAR38, you may need to consider a different shape (like a PAR20) or a compatible dimmer.
Pin-based CFL replacements on the lower and higher end can be hard to find.

We don't have all available products at

shop.regencysupply.com, but our team of experts can help you find a solution. Use the chat box or send us a message to find the right option.
Finding the right LED equivalent
If you have any questions about finding the LED equivalent for your traditional lighting, please do not hesitate to contact us. Our lighting experts will help select a product that's right for you.