Are CFLs going away?
Posted by Melissa Jordan on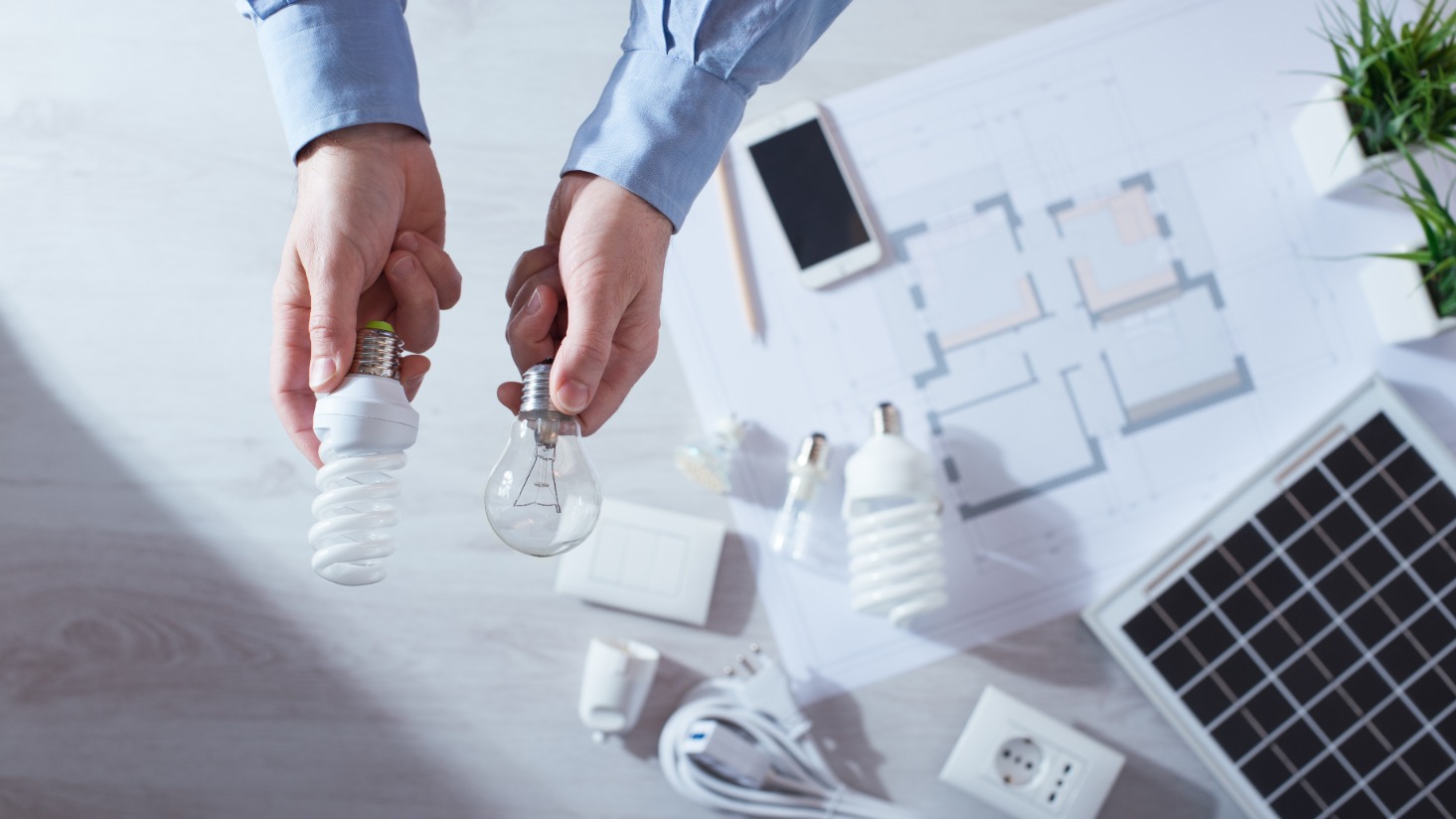 It's happening again. One of our manufacturing partners has stopped making a lighting product, specifically compact fluorescent lamps (CFLs).
The signs have been pointing to this direction for some time.
CFL sales started declining years ago as more people adopted LEDs. This isn't the first manufacturer to stop producing CFLs, either. Back in 2016, GE stopped selling the product in favor of the more energy efficient LEDs.
CFLs are known for energy savings and a wide range of color temperatures. But the truth is, they've always had their flaws, including some of the following:
Color shifting

–Like other fluorescents, CFLs shift color over time.
Warm up period

– For CFLs to reach their maximum brightness, there is a 10 to 30 second warm-up.
Recycling cost

– CFLs contain mercury and should be recycled.
With all of this in mind, are CFLs going away? Not overnight. There are still manufacturers producing CFLs, and there are still plenty of options for sale on our website. However, you will likely see a gradual phase out of CFL products.
Click here for help finding a replacement product.
What are CFLs?
Compact fluorescent lamps (CFLs) emerged on the lighting market in the 1980s as a more energy-efficient alternative to the incandescent light bulb.
Linear fluorescents had been on the market for several decades, but the linear tubes did not fit into the same socket as incandescent light bulbs.
Some CFLs screw into a medium base socket (E26). Others have a bi-pin or quad-pin base. CFLs were known for their spiral design, although they now have several different shapes and size.
Different types of CFLs
CFLs fall into two different categories: non-integrated ballast and integrated ballast.
A non-integrated ballast CFL is called a "plug-in." The ballast is separate from the lamp. Compact fluorescent lamps have a bi-pin (2-pin) or quad-pin (4-pin).
An integrated ballast CFL is designed to replace incandescent and halogen lamps, where you simply screw the bulb into the socket. The ballast is built into the bulb.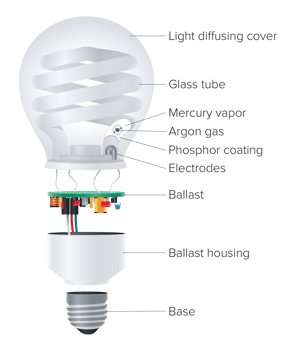 Creating a smaller ballast that would fit inside a bulb was one of the real challenges when creating CFLs.
CFL to LED upgrade options
As veterans in the lighting industry, we've seen our share of product changes. Finding a replacement option for a CFL is not always an easy process.
In some instances, a switch back to an incandescent product might seem like any easy fit. Incandescent products are known for their light quality but are less energy efficient than CFLs.
But incandescent lighting products are experiencing somewhat of a "phase out" as well. Several states, like California, have placed new requirements on lighting products. Some incandescent bulbs cannot meet those new requirements, so they're no longer sold. (There are exceptions for specialty applications.)
This really leaves only one product option available: LEDs.
CFLS vs. LEDs
CFLs and LEDs are both known as energy efficient options, especially when compared to incandescent or halogen products.
For a long time, price was the main reason to choose a CFL over an LED. LEDs had a high price point when they first hit the market, but they've dropped considerably over the past few years.
We compared this CFL product listed on our website with this LED option also listed on our website, both made by TCP.

Here's a look at the results:
| | | |
| --- | --- | --- |
| | CFL | LED |
| Product | | |
| Average cost | $3.44 | $3.02 |
| Lumens (light output) | 550 | 480 |
| Wattage (energy usage) | 9 | 6 |
| Average lifespan | 10,000 hours | 25,000 hours |
The LED is actually a cheaper option, uses less energy, and lasts longer.
CFL to LED: Finding the right product
Our goal is to simplify the purchasing process and help you find the right lighting product.
If the CFL you currently order is now discontinued or out of stock, it's easy to find the LED option in our online store.
For example, the CFL listed below is now discontinued. To find the LED equivalent, click on the option that says "Get the LED equivalent for $0.68 more."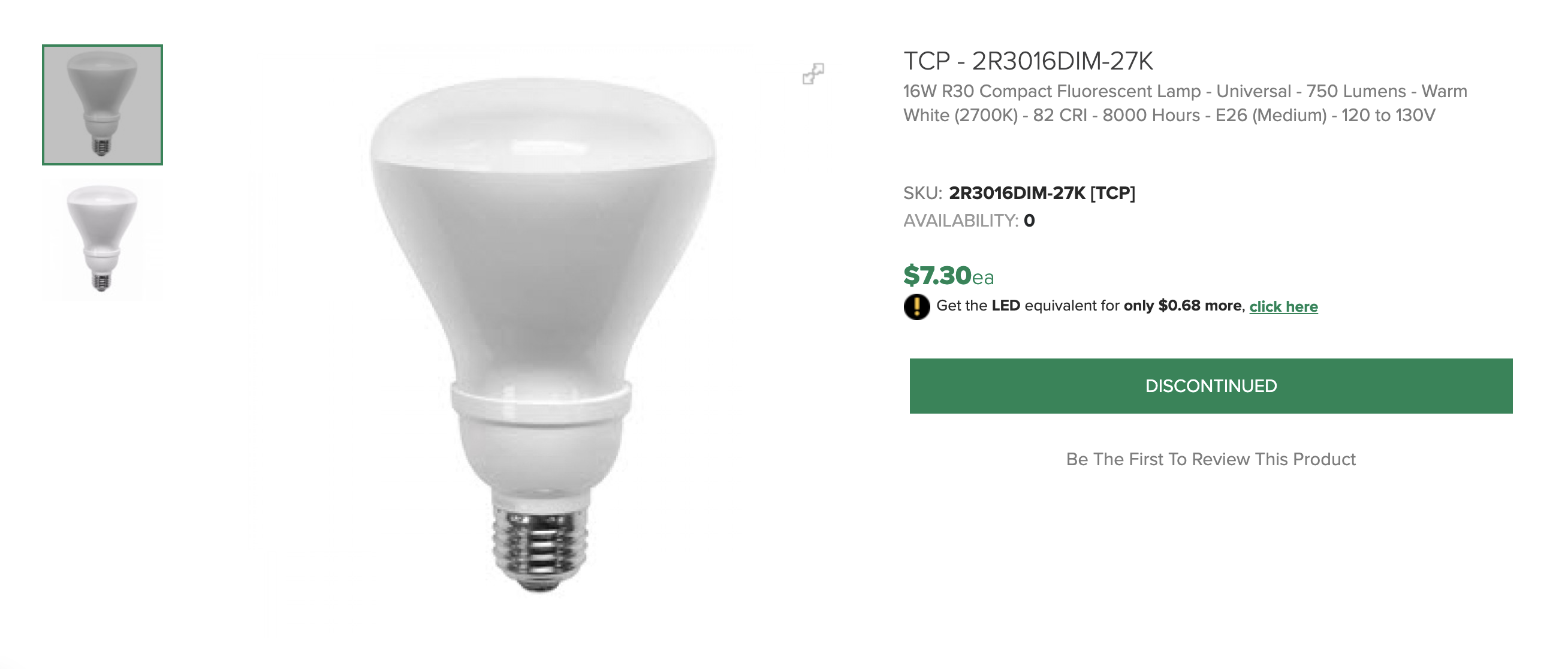 If you have several types of CFL products to replace or you need help finding the right product, please do not hesitate to contact us. Our team of lighting experts will help you find the right solution for your application.