How to recycle fluorescent lighting and electronic waste
Posted by Greg Tellason on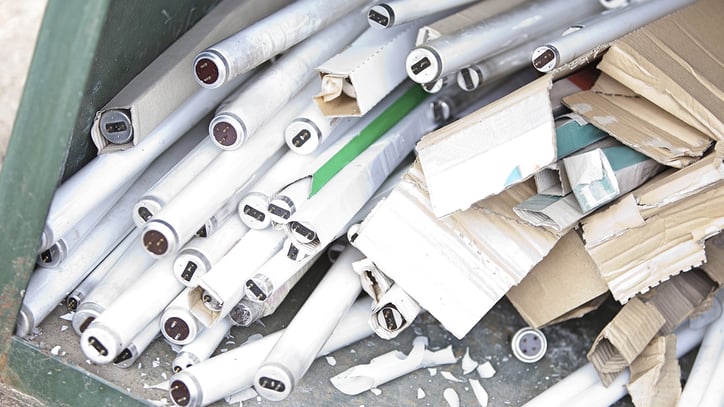 Are you currently retrofitting to LEDs and left with some old light bulbs? Or are you replacing some of your old lights in bulk?
You might be wondering what to do with the pile of leftover lighting products. Do you just pile them up in the back of your building? Do you throw them in the trash? Hopefully not.
As more commercial buildings ditch traditional lighting for LEDs, staying educated about the environmental impact and use of lighting is more important than ever before.
Recycling solutions for lighting
Regency offers convenient recycling solutions for lighting and electronic waste. After a customer completes a lighting retrofit, recycling old fluorescent, compact fluorescent, and HID lamps is the responsible next step for us.
We help you handle the hassle of getting rid of old light bulbs in an economically-friendly, environmentally-friendly fashion.
Recently, we partnered with a large property management customer to retrofit their linear fluorescent tubes to LED. A large part of the project was not just about reducing their energy consumption, but it was also about responsibly disposing of the older product.
As part of our product offering, we provided the customer the ability to recycle their fluorescent tubes. That's a huge statement by the customer – showing their value for environmental responsibility.
We all want a brighter future for our world. And we're here to help.
Interested in your potential savings from a lighting upgrade? Check out our Energy Savings Calculator.
What Regency recycles
Regency will recycle a wide range of your old lighting products, from traditional lamps to ballasts and electronic equipment.
Here is a full list:

Each customer has a responsibility to recycle other products beyond the lamps that contain mercury. You can recycle ballasts, batteries and even the traditional incandescent lighting so that those components can be used for other productive purposes.
Lighting and electronic recycling programs
Are you concerned about complying with state and federal regulations? Leave your worries at the door. Our programs are designed to assure compliance.
We want to make your experience with recycling products hassle-free, so we facilitate all transportation, packaging, processing, and certificates of recycling services.
We can provide this service through the following three methods.
1. Recycle Pak
Our ready-to-use packaging for recycling storage and shipment is perfect for small quantities of fluorescent lamps, batteries, ballasts, and thermostats containing mercury.
This allows those customers who aren't undergoing a large program to be able to efficiently recycle in a turnkey fashion. There are various sizes that can be purchased to fit the customer's needs.
Each "box" comes with a liner to seal the product being recycled and a shipping label to ship the package to the recycling company when they have filled it up. Once the product has been recycled, a certificate will be sent to the customer for them to keep on file as proof that their product was recycled.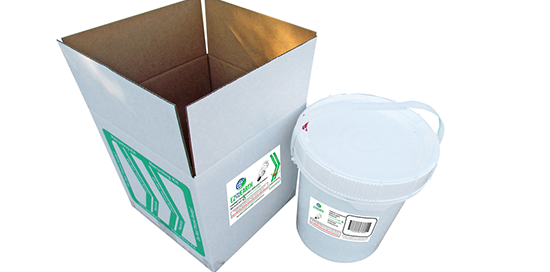 2. Bulk Recycling
Bulk recycling is handled through a national partner. Most clients pair this service with routine maintenance or larger re-lamp, retrofit, or renovation projects.
This is geared more toward those larger projects where a customer has more than they can fit in the Recycle Pak program. The cost of the recycling is based on linear foot for linear fluorescent lamps or weight when it comes to the HIDs, CFLs or ballasts.
Our customer service agents are trained to partner with each customer and help them determine the program that would fit them best for their specific purposes, also considering cost-effectiveness.
However, if you have several hundred lamps that you would like to recycle, the bulk recycling program is the way to go.
3. Regency Truck Pick-Up
Regency will deliver appropriate recycling containers and pick up recycling for local properties within a set radius of a Regency warehouse location.
Ultimately, recycling lamps, ballasts, batteries, tritium exit signs, and traditional lighting allows our customer base to be a solid and responsible community partner, protecting precious environmental resources.
What is the most common lighting recycling program option?
The method of recycling you'll choose really depends on the needs of the customer. The simplest and most common program is our Recycle Pak program. It's easy to use, cost-effective, and available for the smaller businesses that have your standard everyday needs.
We can use Regency Truck Pickups when a customer has a larger quantity to recycle and is close to one of our seven U.S. distribution centers.
However, if the items needed to be picked up are in the several hundreds or thousands, it is best to partner with our recycling company partner to have them come and pick up the product. When we arrange for a large recycling pick-up, it is important to communicate the conditions of the pickup.
Our program process
Contact us to schedule pick ups or process orders for recycling items. We'll provide recycling certificates as a follow-up, giving you peace of mind and the proper documentation.