Solve LED dimming problems like flickering and strobing with these 4 simple tips
Posted by Brandon Melton on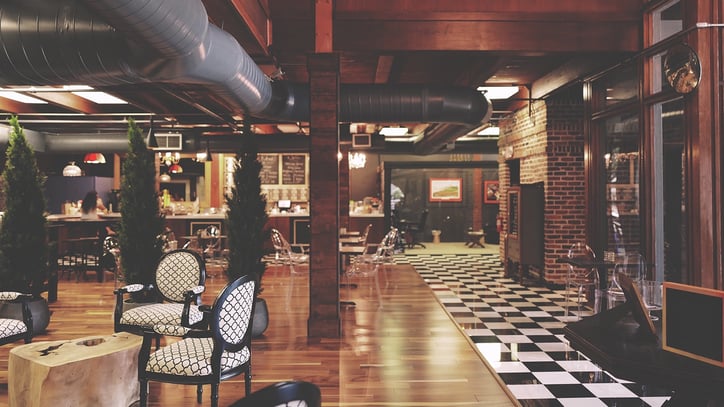 When LED lamps first started to make their way to the market, early adopters were frustrated when they tried to dim them. In most cases, the technology wasn't far enough along. So in a setting like a restaurant, where ambiance is often king, many were understandably reluctant to switch to LED.
The lighting industry has waded through the often-choppy, often-murky waters of LED dimming over the last several years and, while a lot of the problems have been solved, flickering and strobing and early burnout still happens all the time.
Why?
Well, I've personally encountered 100 different reasons behind LED dimming problems. But generally, the following tips will help you steer clear of trouble with dimming LED lamps.
LED dimming success: 4 tips for avoiding LED flickering, strobing, and early burnout
1. Buy dimmable LED lamps
Hello. Captain Obvious here with a special report from the field: dimmable LED lamps are an important part of the LED dimming equation.


In all seriousness, if you're used to exclusively buying incandescent lighting products, it may not occur to you that there are dimmable and non-dimmable LED lamps. Getting the right type of product is the first step you can take toward LED dimming success. Be sure to know your product and talk to a lighting specialist or the lamp manufacturer about the lamp's dimmability.
2. Know the relationship between lamps and controls
Typically, LED dimming problems occur because the left hand doesn't know what the right hand is doing or, more specifically, the LED lamps aren't in sync with the controls, or dimmer switches. In order to get LED lamps to dim, you need a proper pairing between the lamp and the controls.
As a general rule, when you're retrofitting and you're trying to get LEDs to dim, we always recommend purchasing new, compatible controls along with new LED lamps. Pairing new LED lamps with pre-existing, older dimmer switches is a crapshoot for dimming. Not only might there be compatibility issues between the two, but your dimmer switches might be aged out. Though it's not often discussed, dimmer switches are like lamps, in that they have life ratings – of five years, most often – and they can begin to fail when they've surpassed that rating.
Or think about this option: wireless lighting controls. This is a cost-effective approach that leads to better dimming control and easier upgrades. All of the devices are added to a programmable network. Wireless controls use radio waves to send signals. There is no need for wiring, very low labor, flexible installation, and you still have energy cost savings.
Selecting the right combination of lamps and controls is as important to LED dimming as putting the correct batteries in your remote control.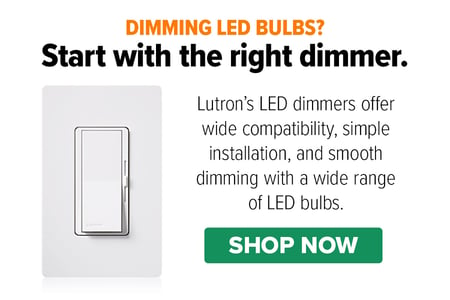 3. Buy reputable, well-tested product
The emergence of LED and its electronic anatomy has made the manufacturing of light bulbs far more approachable than it once was when manufacturers needed access to finite resources like tungsten and mercury. But for every problem LED has solved in the lighting world, it has caused others.
Controls manufacturers have had to pivot and make sure their products have the proper components to work with LEDs.
There's that, and then there's the fact that there are a lot of brand new, unproven lighting manufacturers that have jockeyed their way onto the market. These manufacturers are trying to beat everyone else on pricing, but what do you do about the five-year warranty they're offering you when they go out of business a couple years after money changes hands?
Do your lighting products need to be UL listed or ETL listed? And what about DLC and Energy Star?
Today's most reliable dimmable LEDs have been tested across a broad spectrum of controls systems. Many lighting manufacturers publish compatibility and performance lists on their websites, detailing which of their products are compatible with certain controls systems, and how they performed when paired with those controls, or dimmer switches.
When helping you to find the right dimmable LED product, we'll likely ask you about what kind of controls you'll be using and double-check that the lamp you're looking to buy works well with those controls, or if it's been tested with it.
4. Mockup, mockup, mockup (and work with a lighting specialist)
If you want to avoid long-term problems with flickering and strobing and the whole spectrum of headaches that can come with trying to dim LED lighting, the most surefire thing you can do is to perform a mockup, or test install in your space. Make sure the lamp(s) you're considering work with your dimmer switches.
In fact, it's probably worth mocking up an entire circuit to ensure the old lighting doesn't give a false sense of compatibility.
As with a lot in lighting, dimming LEDs can be complex. But that's why we're here – to make lighting easier for you. Our lighting specialists have seen all kinds of weird issues with LED dimmability over the last several years, and they're ready to walk through that with you and help you find a solution that makes sense and helps you achieve your goals.
LED dimming and Title 24
If you're in California, you have a different set of regulations to consider for LED dimming. We dove headfirst into Title 24 several years ago. You can look through our resources and let us know if you have any questions.
This article has been updated with the latest LED dimming technology. It was originally published in 2017.