How to complete a lighting retrofit for commercial offices
Posted by Francine Pitassi on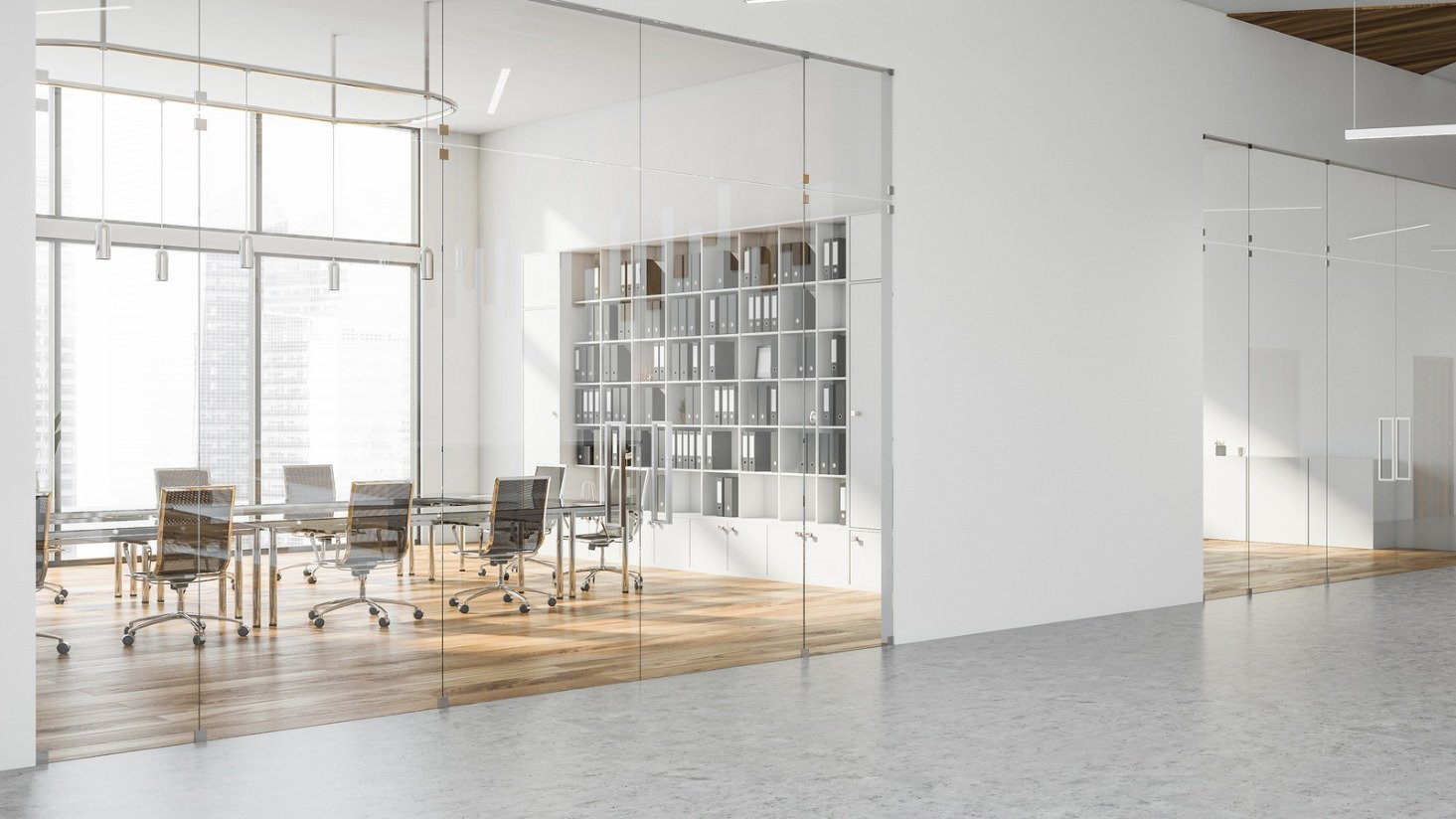 If you're thinking about upgrading lighting in a commercial office space, chances are you currently have fluorescent tubes.
While fluorescent lighting is pretty energy efficient, there are several reasons why you would want to upgrade to LED.
You might currently use T12s, which are getting harder to replace. You may be tired of recycling fluorescent tubes every time you put in new ones. Or, you might want to try to improve worker productivity with a light that is not so harsh.
No matter your reason, a lighting retrofit can have significant impacts on your building and your employees.
1. Establish your lighting retrofit guidelines
Before you start any major project, you need to establish your guidelines.
Ask yourself the following questions:
What's your budget?
What are your main goals?
Do you need to meet building or energy codes?
Is one area a higher priority than others?
There is plenty of time to fine-tune all of the details, but once you have a general direction, you can follow the next steps.
2. Check for high-burn areas
Once you know your guidelines for a lighting upgrade, we recommend looking at high-burn areas.
For a commercial office space, these are places where the lights are not turned on and off for many hours at a time.
Think about parking garages, stairwells, or basements. These are also areas where safety is critical, so you could get a safety upgrade along with your lighting upgrade.
Then, gradually move to areas that are more occupied during the day, like lobbies or common work spaces.
As you're looking at high-burn areas, consider using our lighting pyramid. This can tell you which light bulbs are using the most energy. The light sources at the bottom, like incandescent and halogen, use the most energy. LED is at the top because it is the most energy-efficient light source.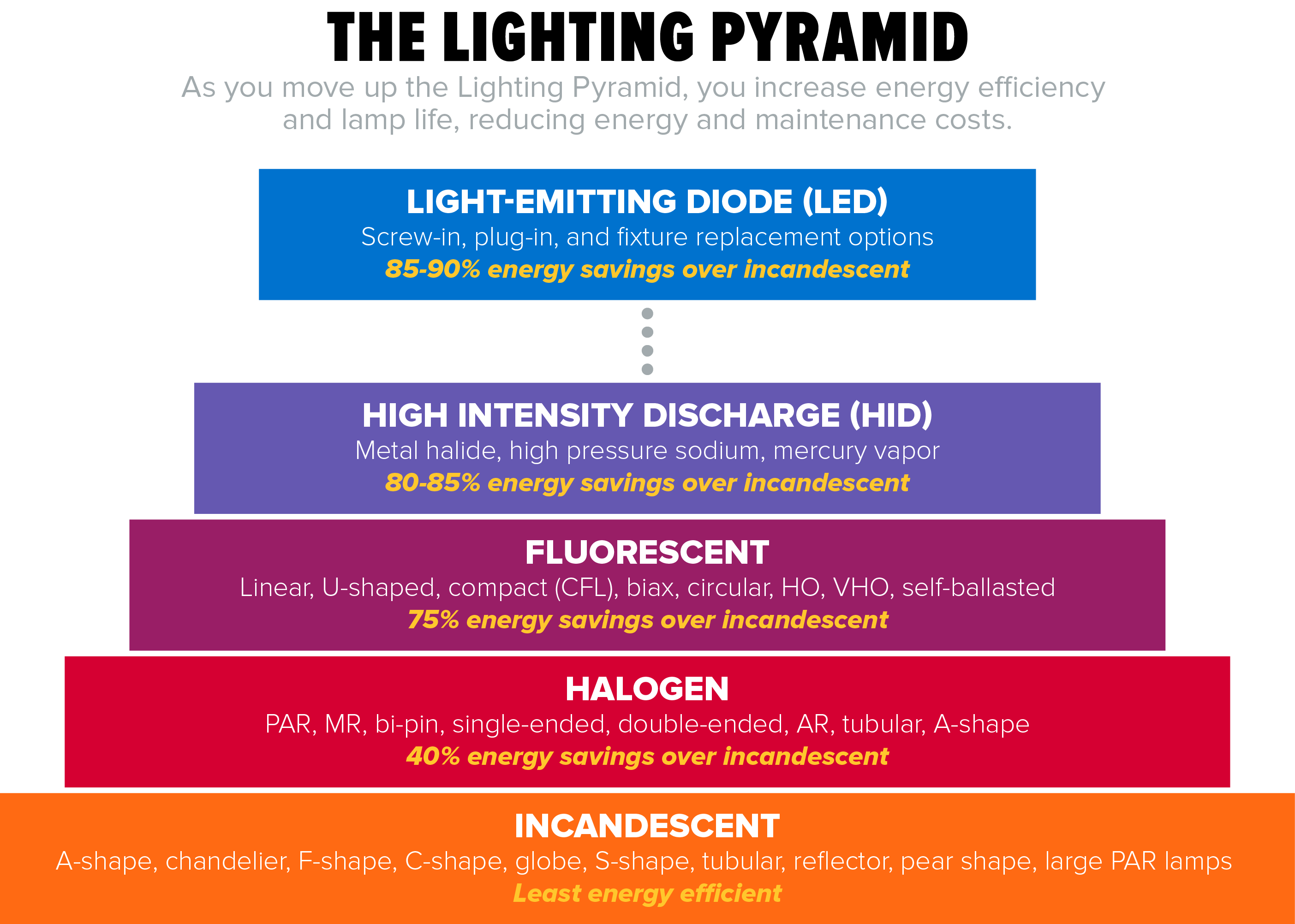 In a commercial office space, your main focus will probably be on replacing fluorescent tubes with linear LEDs. Take a look at the best places for linear in LEDs in commercial offices.
3. Focus on hard-to-maintain lighting
Once you've looked at the high-burn areas, we suggest upgrading hard-to-maintain areas.
Do you have to use special equipment every time you want to change out one light bulb in your high-ceiling lobby? Or maybe it's very inconvenient to change out light bulbs over workers' heads.
We recommend focusing on whichever areas are the most difficult in your building. Productivity for workers and safety for everyone entering the office are both top priorities, and a lighting retrofit will help meet your goals.
Plus, the payback from upgrading to LED may outweigh the high cost of maintenance. Use our calculator below to see how much a lighting retrofit can save you.
4. Consider lighting controls
Lighting controls are very effective in commercial offices because you have space that is not consistently used throughout the day.
Think about your meeting rooms, break rooms, bathrooms, and even offices. Leaving lights on in these areas all day can be a huge waste of energy. Plus, energy codes in some states now require lighting controls in certain areas. We took a look at some energy code changes around the country for 2020.
Lighting controls can be as simple or as advanced as you would like. You also have the option to install wireless lighting controls, which can give you much more flexibility because you don't have to wire an entire system. The system can "talk" to light bulbs through wireless signals.
Phillips says you can up to 55% more energy with lighting controls. For other ways to cut down on energy costs in your commercial office space, check out these strategies.
Benefits of a lighting retrofit
Besides saving energy, there are several other benefits you'll notice if you complete a commercial office lighting retrofit.
Overall reduced costs: Traditional light sources like incandescent and halogen light bulbs tend to produce a lot of heat. If you switch to LED, your HVAC system may get a break. That means even lower bills.
Lower maintenance: Offices have a lot of areas to maintain. Focusing on these areas for a lighting retrofit will result in less maintenance because you don't have to replace LEDs as often as other light bulbs.
Better selling point: If you're trying to get new clients into your commercial office space, LEDs and lighting controls can be a selling point. A lot of businesses are focused on sustainability
If you're ready to retrofit or you have any questions, please do not hesitate to contact us. You can also click below to discuss your space with a lighting specialist.