What is Dark Sky and how does it impact lighting?
Posted by Greg Tellason on

There's nothing like a relaxing evening looking up at the stars. But in many areas, you can look up at the stars... and not see much.
One of the primary reasons behind the "disappearance" of stars is the widespread use of artificial light. But the problem goes far beyond enjoying a night in nature. Light pollution is when too much light shines when and where it's not needed. That light is wasted — and there are major economical and environmental consequences.
We'll explain what dark sky is, the impact of light pollution, and how to ensure that your outdoor lighting is efficient (not wasteful).
What is Dark Sky?
The Dark Sky is a movement to reduce light pollution so stars can be seen as they should be — clear constellations, a marvelous Milky Way, and bright planets.
Led by the International Dark-Sky Association (IDA), the primary motivation behind the movement is to reduce light pollution. Communities across the world have joined the Dark Sky movement by adopting ordinances to change outdoor lighting.
If there are ordinances in your area, it's important to take them into consideration before upgrading or changing your outdoor lighting. You can check to see if there is an ordinance in place in your community here.
What is light pollution?
Typically light and pollution do not go in the same sentence. Light is an essential part of our everyday lives. It helps us see indoors and it protects us outdoors. Plus, lighting is becoming significantly more energy efficient with the use of LEDs. How could light also be a pollutant?
When streetlights or other outdoor lighting fixtures are poorly designed, light falls in areas where it's not wanted or needed. This is called light trespass, and it leads to light pollution. Light pollution, like other types of pollution, can have serious consequences for us, wildlife, and the climate.
The causes of light pollution
Outdoor lighting used at night is the primary source of light pollution. Most of the time, light spills into the sky, wasting energy and electricity.
There are several components of light pollution:
Glare: when excessive light causes visual discomfort
Skyglow: when inhabited areas are bright at night
Light trespass: when light falls where it's not intended
Clutter: when light sources are excessively grouped and too bright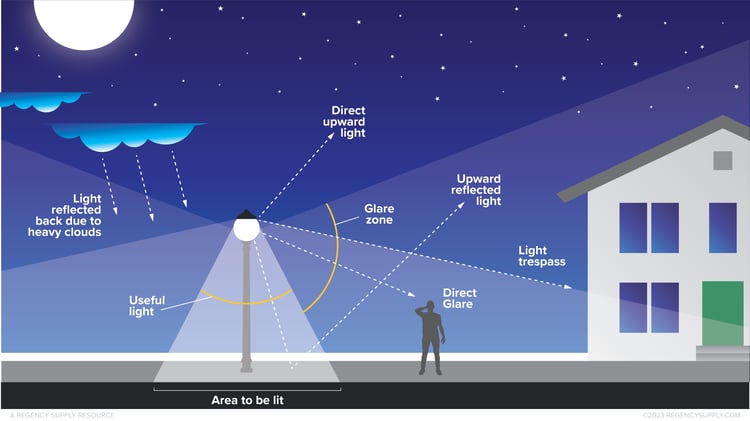 Sources of light pollution often include outdoor advertising (like billboards), commercial buildings, offices, street lights, and sports venues.
The impact of light pollution
More than 80% of the world's population currently lives under skyglow, according to the "World Atlas of Artificial Night Sky Brightness." That number jumps to 99% in the United States and Europe.
Consider this — outdoor lighting uses about 120-terawatt hours of energy to illuminate streets and parking lots in the U.S. in one year. The IDA says that's enough energy to meet New York City's total electricity needs to for two years.
Here is another series of statistics that show the impact of light pollution, from the IDA:
30% of all outdoor lighting in the U.S. alone is wasted by lights that aren't shielded.

That adds up to $3.3 billion and the release of 21 million tons of carbon dioxide per year.

To offset all that carbon dioxide, we'd have to plant 875 million trees annually.
How to improve light pollution
Energy conservation plays a key role in improving light pollution. LEDs are much more energy efficient than traditional incandescent and halogen bulbs (and also a main reason why incandescent and halogen bulbs are phasing out). Dimmers, motion sensors, and timers take energy conservation to the next level. But you can have energy efficient LED lights that still produce light pollution.
There are several practical ways to improve light pollution, even if there are no ordinances in your area:
A lighting upgrade could reduce energy usage by 60-70% — which would save billions and cut carbon emissions.

Outdoor lighting should be directed so it's pointed where it's needed instead of in the sky.

When lights are not essential at night (like in office buildings), make a point to turn them off.

When lights are essential, have a lighting plan that factors in glare and light trespass.

Look for lighting with good BUG ratings.
When you upgrade to LED, it's also important to point out that you could use even fewer fixtures to get the same results. That alone could save on energy and reduce light pollution. Lighting design is an important part of this process. We recommend bringing in our lighting design team, RL Studio, early in the process to minimize any delays.
Finding the right outdoor lighting
There are several considerations when choosing the right outdoor lighting:
Focus on properly directed light

Minimize exposure to blue light to limit health concerns

Stick with warm light sources to protect wildlife



Choose an IP rating that ensures your lighting will last
Consider the BUG rating requirements in your area
To find the most friendly dark sky lighting, look for the seal from the IDA. The fixture seal certifies dark sky-friendly outdoor lighting fixtures that restrict upward-directed light and low color temperatures.
Dark Sky compliance and local codes
There are a growing number of cities and municipalities adopting Dark Sky compliance or something similar for their jurisdictions. In fact, some cities are taking Dark Sky compliance to the next level. We've worked on projects where any exterior uplighting was prohibited, and that changes the game on façade lighting.
If you're in one of these areas, your outdoor lighting plans may be greatly impacted by local codes. In these cases, a lighting designer can help you navigate what are becoming increasingly complex and stringent requirements.
There are so many steps to take into account when you're working on an outdoor lighting project. Our team of experts is here to guide you through every step of the process. Contact us today to get started.