5 big-time benefits of using LED lighting for indoor positioning
Posted by Judah Regenstreif on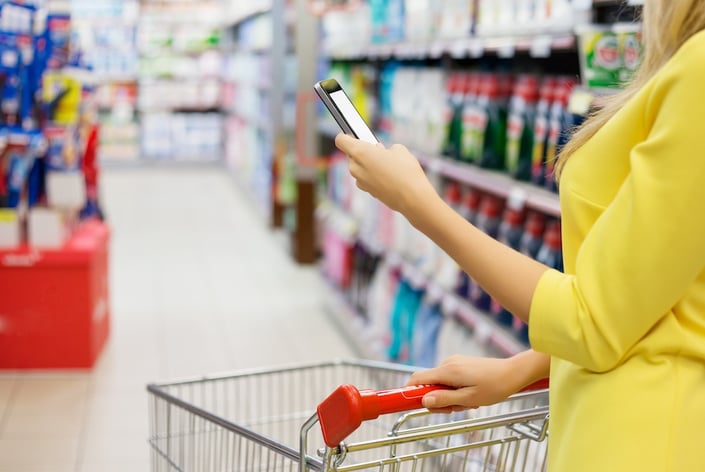 It would have been difficult to conceive just a decade ago, but more and more commercial buildings are beginning to install smart LED lighting in their spaces.
What is smart LED lighting?
LED, as you might have learned, is an electronic light source. As such, its capabilities span beyond the typical scope of a lighting technology.
Yes, LEDs provide all of the usual benefits of great lighting. And they excel in many of those areas. But their electronic DNA gives them a whole different edge.
Learn more: 'Beyond energy efficiency: Does LED lighting provide quality light?'
Smart LED lighting allows for businesses to add convenience and efficiency while driving engagement and providing valuable data on patron behavior – all through lighting.
Use of this kind of technology in retail applications is on the rise as shopping habits are evolving. A 2013 study by Google, for example, found that nearly four in five smartphone owners identify as "smartphone shoppers" – using their mobile devices to support shopping decisions while in-store. Three years have passed since that study was published and it's probably safe to assume that the smartphone shopping trend isn't losing steam.
Retailers see that and have begun to experiment with ways they can capitalize on the trend. In recent years, big-box stores such as Target have installed beacons in 50 stores nationwide, which offer in-store GPS positioning and notify shoppers of deals as they stroll the aisles while also aiding the shopping experience with store maps. Beacons are Bluetooth transmitters which notify smartphone users when certain distance thresholds are met. So, for example, if you're shopping at Target and an item the next aisle over is on sale or new, the nearby beacon would send a push notification to your phone to make you aware of that.
And while Target has invested in beacons, a big-box retailer on the other side of the Atlantic – retail giant Carrefour – has looked to lighting for its indoor positioning fix.
Using Philips LED luminaires as transmitters, Carrefour can provide indoor GPS services to shoppers trying to navigate the store floor, while activating certain offers depending on location.
Philips executives tout a major advantage in using luminaires for indoor positioning rather than beacons, pointing to the nativeness – and preexistent necessity – of lighting. Unlike beacons, lighting fixtures always have and always will have a place in retail environments. Why not lean on it for indoor positioning purposes? That's what Philips would ask.
As quoted in a 2015 BBC story about Carrefour's project, third-party expert Chris Green – principal technology analyst at the Davies Murphy Group consultancy – pointed out similar advantages.

"You have to look at this as a long-term investment, but this is potentially an easier spend to swallow as you're not just betting on one thing – you still have a good lighting system," he said. "It also goes far beyond what is achievable with the beacons. To try and get a similar effect you'd need so many of them that they would be awkward to deploy, plus you'd need to rely on users having a phone that not only supports the newer Bluetooth standard but also has it switched on."
We're a lighting company so, of course, it's easy for us to see the benefits of using lighting if you're looking to wade into the way of the future and integrate indoor positioning techniques into your retail environment.
Here are the prime benefits of indoor positioning:
1. Store mapping
When lighting fixtures around your store transmit GPS-like signals, customers can use their smartphone to help them navigate your store.
2. Routes and ways finding
If you're Carrefour or Target and your customers arrive at your store with dozen-item lists, they may be looking to find efficient routes through the store so they're not zig-zagging their way from end to end and retracing steps. Technology such as Philips' indoor positioning-enabled LEDs can support such route-finding.
3. Product finding
When customers are looking for an obscure item, the ability to search for it on their phone is probably instinctual. How nice would it be for the customer to be able to search for that product, find it, then follow directions on their smartphone to that product's shelf location? Pretty nice.
4. Floor associate pinging
With the help of indoor positioning, the "customer on Aisle 6" will no longer need their request for assistance to be blasted over the PA system. Instead, that customer will be perfectly triangulated, 22 meters down the right side of Aisle 6 and a device-wielding associate will be dispatched to help them promptly upon an app-initiated request.
5. Heat mapping and customer behavior data
Where do most customers gravitate in your store? How long do they look at promotional displays? That kind of data – and a trove of other possible metrics that I can't even conceive – is not only valuable, but attainable with indoor positioning technology.