Why should I choose ENERGY STAR certified lighting products?
Posted by Jules Tompkins on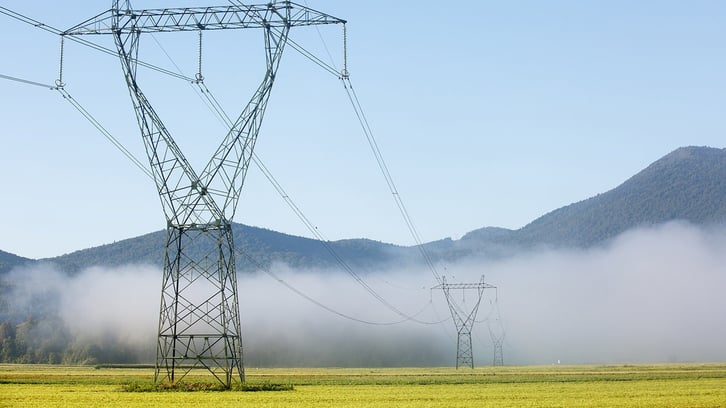 Energy Star is an internationally-recognized label, usually used as "ENERGY STAR."
You've probably seen it a lot of places – while appliance shopping or light bulb shopping, or just perusing the aisles of The Home Depot.
The label is everywhere. (Actually, as we'll discuss later in this post, it's just everywhere in the U.S., European Union countries, Australia, Canada, Japan, New Zealand, and Taiwan.)
But just where did Energy Star come from? Is it just another federal government regulation for people to gripe about or a necessary standard for achieving environmental sustainability on a global scale? How important is the standard to your buying decisions? And what should you do if you found a lamp that seems perfect for your project but lacks Energy Star certification?
Let's get to the bottom of all that and talk about finding Energy Star certified lighting products while we're at it.
What is Energy Star and where did it come from?
When did Energy Star become a thing?
Back in 1992, officials in the U.S. Department of Energy and Environmental Protection Agency (EPA) got together to create an official standard for energy efficient products. It began as a voluntary, opt-in labeling system meant to signify energy efficient computers and printers – notorious energy hogs in that era.
As you're well aware from your Home Depot errands, the label has expanded exponentially since then, covering a whole spectrum of product categories, including lighting, of course. Today, newly constructed houses and commercial buildings can carry the Energy Star label, as can appliances, telephones and tablets and pool pumps and windows and doors and a whole lot else. The label also expanded its application to the countries mentioned above in subsequent years.
According to its website, Energy Star is "the trusted, government-backed symbol for energy efficiency helping us all save money and protect the environment through energy-efficient products and practices."
How does a product qualify for the Energy Star label?
The EPA chooses which products and categories earn Energy Star certification based on the following guidelines, or criteria:
Categories are selected based on their potential for returning
energy savings across the nation

Selected products have to carry similar features, performance, and quality to that of non-energy-efficient products

Selected products must have the energy-saving potential to make up additional upfront cost in savings on utility bills ("within a reasonable period of time," the Energy Star site adds)

Energy efficient technology used in a product must be non-proprietary and included in the products of more than one manufacturer

Product performance and energy consumption must be measurable
Energy Star explains on its website that labeling is done with the intent to "reduce greenhouse gas emissions and other pollutants caused by the inefficient use of energy" in a consumer-friendly, simple, and easy fashion that does not diminish the quality and comfort consumers expect.
How important is Energy Star to your lighting purchase?

When it comes to lighting, an Energy Star label denotes two things.
First, if a manufacturer has secured an Energy Star label on its product, it is probably pretty reputable and trustworthy. And reputability is a big deal in lighting. You want to make sure the manufacturer you're working with isn't going to be out of business in a few years, in the event that your lamp prematurely burns out and you've got a warranty to claim. The EPA doesn't hand out Energy Star certifications to just anyone. So you can generally trust that if the product you're considering purchasing has an Energy Star label, it's coming from someone legit.
Wondering what other factors go into choosing a reputable product? Download our checklist: 9 Questions to Ask a Lighting Manufacturer
The second thing an Energy Star label tells you is probably obvious. The product is going to save you money on energy when compared with the conventional, run-of-the-mill, non-energy-efficient equivalent of that product. In lighting, for example, an Energy Star-certified 14 watt LED PAR 38 will require a lot less energy than its 75 watt halogen counterpart.
Check out our Energy Savings Calculator to find out how quickly you could achieve ROI on a lighting retrofit project.
The third reason that Energy Star could impact a lighting purchase is related to rebates. Most rebate programs require that the new product being installed carry the Energy Star certification. This is a way for utility companies to ensure that the incentives they offer will be applied toward products that will last.
Learn more: The pros and cons of the three most common types of lighting rebate programs
How do you know if your lighting product is Energy Star rated/ certified?
The Energy Star mark is ubiquitous. You'd recognize it on the back of light bulb boxes and on the side of refrigerators and washing machines.
Here's what it would look like on a compact fluorescent light bulb package: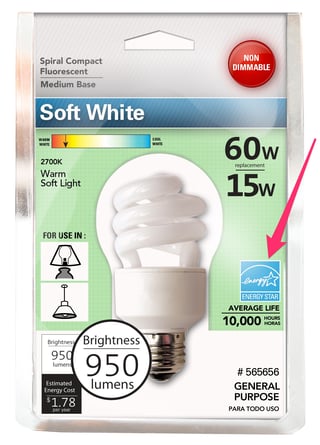 You can also use Energy Star's Product Finder while researching the Energy Star rated lighting products that may work for your application.
As you navigate through all of the jargon, certifications, and specs the lighting industry has to offer, know that our in-house lighting experts are here to help you make the best buying decision for your lighting needs.
Need more help with choosing between LED light bulbs? Check out our breakdown of the lighting facts label.